Music Reviews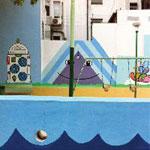 The Sea And Cake Runner
(Thrill Jockey)

The perceived dichotomy between what goes on at the cultural margins, and what is current in the mainstream is a misleading one. The relationship between the two is too often regarded as a polar one, an opposition. However the reality is more complicated, and more creative, than such simple reductionism. The centre will feed off the margins, and vice versa, in a reciprocal arrangement; the imaginary borders between the two worlds are porous, allowing influence and inspiration to filter through in both directions. Examples of this exchange in the pop world are legion. Prime examples are Jim O'Rourke's brilliant run of albums in the late 1990s/early 2000s, an established avant-garde musician using techniques and elements of his world to create great pop music. Conversely, Kylie Minogue, pop princess, entering the electronica arena with robopop uberhit, Can't Get You Out Of My Head, one of the greatest pop songs of all time.
The Sea And Cake have been making excellent, intelligent, jazz-influenced indie rock since 1994. The band's credentials are resolutely left-field. Lead singer and guitarist Sam Prekop was in underground Chicago act Shrimp Boat, while drummer John McEntire is better known as one the founder members of genre-defining post-rock superstars Tortoise. The Sea And Cake have perpetually flown under the radar of the music press, for reasons unfathomable to these ears.
It's probably too late in their career to talk of a breakthrough album, this being the band's 10th, but Runner is not only their most accessible album to date, it's also their best. Prekop's breathy vocals, while in other settings have been too insubstantial to carry any weight, here lend the songs a wistful sense of longing and melancholy. McEntire's drumming is restrained and well-judged rather than showy. The jazz elements of the band's sound have been stripped right back, leaving the songs to stand up in their own right, and for the most part, they deliver. Opener On And On is a jaunty canter of a song, the most up-beat of the album. Harps slides in on an electronic wave, with chiming guitars, and contains some lovely lyrics "Summer won't go off, cos the sky was never blue..." The song reminds me of some of the vocal tracks from Eno's Another Green World. The Invitations begins with a synth wash and for its first half is a dream-pop drone, then at 2 and a half minutes, the drone fades and through a sample of children's voices a beat emerges, never forthright enough to be called disco, but maybe a chillout instrumental. Whatever, it's a stunning track. Harbor Bridges has some beautiful acoustic guitar playing; folk-influenced, it's reminiscent of O'Rourke at his most bucolic. A couple of the tracks do feel a little throw-away (namely Skyscraper and Pacific), a bit indie filler, but the album's finest track The Runnercomes at the end. It's a hauntingly lovely slow sway of a song, woozy guitar fluttering throughout, Prekop's aching vocal perfectly fitting the song's feel of hazy melancholy.
Runner may not make The Sea And Cake many new fans, they're probably a bit long in the tooth for that, but more's the pity. It's a brilliant, mainstream indie rock album from a band who have for too long operated on the margins of, for want of a better word, the 'scene'. Highly recommended.
21 November, 2012 - 17:12 — David John Wood