Music Reviews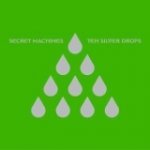 Secret Machines Ten Silver Drops
(Reprise)

I first saw Secret Machines as a support act performing a suicidal early slot at a soulless pit of a venue in central London a couple of years back. The experience was remarkable - three black clad youths, apparently truants from a first-year geography lecture, filled the sceptical and cavernous hall with a set of such ambition and vision that the much-vaunted headliners were greeted with something close to polite disappointment. In their early gigs and on their first proper album, Now Here is Nowhere, the three New York-based Texans created a sound that announced proudly: Prog's not dead. Josh Garza's pounding, possessed percussion, Brandon Curtis's Pink Floyd keyboards, and his brother Benjamin's Neu!-esque guitars took listeners back to the time when drum solos, capes, and lyrics about Pharaohs were considered not only acceptable but de rigueur. The terms 'arrogant', 'pretentious', and 'over the top' could all be used as compliments.
Strange things have happened since then. Despite the compulsion felt by bands on both sides of the channel to ape The Jam and The Stranglers at all costs, Secret Machines' early 70s sound has become a favourite with an unlikely collection of big timers: Interpol, Chemical Brothers, David Byrne and Noel Gallagher have all handpicked the three-piece as a support act. The connection, not at first obvious, lies in a shared appreciation of music as theatrical performance: from the slick suits, to the massive visuals, to experimental video projects, through to introducing oneself to the crowd as God, all the bands who've called on the Machines' services know the importance of music that grabs the senses in a synaesthetic bear hug and wrestles listeners into love.
The effect on Secret Machines appears to have been largely positive, and the result of their recent recording and mixing stints high in the Catskills and then in London is an album with all the ambition and excess of their first outing but with an additional and welcome sense of direction and entertainment. Evidence can be found in the inclusion of cuts that might even pass for singles - sinuous, bittersweet rocker and opening track, Alone, Jealous and Stoned, and the thunderous, populist live favourite Lightning Blue Eyes. There are fewer lyrics about elves, fairies and spaceships, and even some cleverly wistful, even cynical couplets: "Beneath the stillness, a place where coldness meets cold" (Faded Lines). There are, of course, the Can-inspired drum sequences, the swooping lyrics, the distinctly kosmische musik arrangements (autobahn driving verses, lots of major chords in the choruses), and the occasional tendency to allow songs to drift at the beginning and end (I want to know if it's still possible). There's a further, and very welcome influence added to this excursion, specifically the French keyboard aces Air, and their ability to compose the epic ballad, one imagines teased out by former Smashing Pumpkins and My Bloody Valentine Producer Alan Moulder, as on the rather Gothic, windswept closer 1,000 Seconds.
As the press releases did not hesitate to tell us on the release of Now Here, Secret Machines were three men with the world at their feet. Dedicated shoegazers that they are, I suspect that their toecaps are still more important that global domination. This album though, is evidence that such adulation is richly deserved.
21 September, 2006 - 23:00 — Ben Bollig