Music Reviews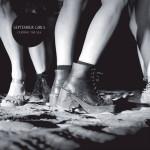 September Girls Cursing the Sea
(Fortuna Pop!)
Buy it from Insound

A sudden feeling of precaution emerges once one begins to warm up to the latest female-fronted fuzz pop trio, if only because some of the more promising acts in recent years have proven to be short lived. Either they carve their own path with a notable first statement to then live on the glory of a fleeting memory (Tiger Trap, Talulah Gosh), to then amend the past by reuniting with a renewed determination to then disappear (Dansette Dansette, All Girl Summer Fun Band), or simply outstay their welcome before going through a quiet period (Vivian Girls, Puro Instinct). Let's just say that enrolling a C-86 inspired band for liability insurance isn't the best idea, so it's best to enjoy their presence while they're still standing.
If judging on the basis of name alone, then September Girls should stand as one for the ages. The Dublin quintet are hardly the first to romanticize their profile with a slightly obscure seventies alt-reference, not to mention that their backdrop of blissful dissonance deliberately references the post-Psychocandy distortion craze. But September Girls hold a sweeter disposition - they blend chiffony harmonies set against shambling melodies marbled with a dark tint over them. So they pose with a noticeably apathetic demeanor, each of them wearing black in different wardrobe combinations, though full credit goes to the Reid brothers for teaching an entire generation that artistic integrity means trying hard not to care.
Cursing the Sea carefully applies this tactic throughout its forty minute runtime, faithfully carrying those reverb-drenched guitars at an unvarying pace. The threadbare sweet-and-sour title track does lean on its influences a little too heavily, but they surely remedy any potential reproach with two cutthroat tracks Heartbeats and Green Eyed, both of which display the dual sonic assault of Caoimhe Derwin and Jessie Ward; it certainly strays from the usual three-chord patterns associated with twee acts that dabble with noise.
At first it seems as if the overall dark tonality of Cursing strikes as a gimmick, and to a degree it is, since all the songs are shrouded with a muggy fog that befits its all around sullenness. It's so overbearing that it obscures its occasional bouts of exuberance, like in Money, which manages to coil a Ramones riff into a deeply complex web of interlocking parts. But maintaining a locked rhythmic discharge is as equally important to them, and as Secret Lovers can attest, they're not ashamed to write a melody that follows primitive syncopations with honey-drenched vocal flourishes.
The slow-burning moments in Cursing at the Sea are a curious contrast from its brisk rhythms, and challenges the common perception that all acts that follow the girl-group garage template settle with naive choices. Contrary to the slipshod musicianship of their older peers, September Girls are more than competent unit that model themselves accurately with a toughened exterior, and most of the flaws arise out of its production inconsistencies; the most glaring being the distracting interchange between vocal clarity and obfuscation between tracks, and the whirring fuzz is stretched out far too thin. But they've ousted their contemporaries by delivering a far more grown up proposition that signals at, here we go, a promising career. Here's hoping they make it past the first album.
14 January, 2014 - 05:00 — Juan Edgardo Rodriguez