Music Reviews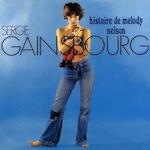 Serge Gainsbourg Histoire de Melody Nelson
(Universal)
Buy it from Insound

Just two years on from the release of the notorious and hugely successful Je t'aime... moi non plus single, Serge Gainsbourg turned his attentions to orchestral rock and wound up making the finest album of his long and illustrious career.
1971's Histoire de Melody Nelson is rightfully regarded as a classic. Indeed, there are few finer examples of the marriage of rock guitars and sweeping orchestral arrangements in the popular music canon. The superfluous string section – now often crudely arranged using ProTools – has become a tired cliché forty years later, but Jean-Claude Vannier's work on this album still sounds vibrant and genuinely innovative. The dramatic crescendos lend the album a cinematic quality, while the fluid basslines and perfectly judged guitar parts allow space for Gainsbourg to tell his story. And what a story it is, for Melody Nelson is a concept album like no other: this is Lolita as re-imagined by Serge Gainsbourg.
Having crashed his Rolls Royce Silver Ghost into fifteen year old English student Melody Nelson's bicycle, the narrator – seemingly Gainsbourg himself, who was 42 years old at the time – inevitably begins an affair with her. Their romance is tragically cut short, however, when Melody – who wanted to see 'le ciel de Sunderland' (the sky of Sunderland) again – is fatally wounded in a plane crash.
On paper this sounds strange, perhaps even a little seedy, and of course it is – this is Gainsbourg! But it's engaging, addictive even; the visionary music and elaborate wordplay (there's an excellent English translation available here) combine to create that rarest of beasts: the concept album that continues to reward the listener on repeated listens.
The series of 40th anniversary re-issues from Universal are nothing if not generous. Diehard Gainsbourg fans are going to want to own the delightful Super Deluxe Edition, which includes 2 CDs (the original album and a bonus disc, with some interesting alternate takes and instrumental versions) , 2 LPs, and a DVD, which features a 5.1 version of the album and a brand new Gainsbourg documentary. The Deluxe Edition features both CDs and the DVD. There's also a standalone Vinyl Picture Edition for those who still prefer the record's original format.
Whichever version you opt for, the main attraction is always going to be those original seven songs, which together comprise one of the great albums of the 1970s. If you're new to Gainsbourg, or if you only know Je t'aime... moi non plus, then this is the ideal starting point from which to explore his fascinating catalogue.
7 December, 2011 - 22:17 — David Coleman