Music Reviews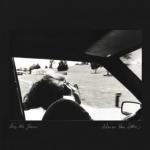 Sharon Van Etten Are We There
(Jagjaguwar)

Throughout the last three albums, Sharon Van
Etten
has shown us her fear, vulnerability, anguish, anger and regret, all springing out of one awful, abusive relationship. Although all those records, especially
Epic
and
Tramp
were excellent,
Are We There
is an album of new experiences and new relationship troubles.
While earlier records felt steeped in Van
Etten's
own past,
Are We There
looks at the present, or at least very recent history. The struggle between being a musician and being in a relationship is not an easy one. Often, the ties binding the romance get taut and eventually snap. Van
Etten
doesn't give up or give in to despondence, though. Instead, she does what she does best: she writes beautifully-crafted songs.
The album starts with
Afraid of Nothing
, a mix of slow key chords and a nimble guitar pattern. From the first verse, Van
Etten's
words spill out of her mouth, almost faster than the music can keep up with, singing
"And you decide you throw me a lame "wait shit out!"/You're a little late/I need you to be afraid of nothing."
On the lead single, she sings that she is
Taking Chances
that her partner seems scared to try, crooning over an in-the-pocket bass and some tight R&B
synths
.
Her musical expansion spreads all over this record.
Our Love
opens smoothly with sharp guitars and a low-key synth line, sounding a bit like TV On The Radio, until her voice cracks in.
Tarifa
has touches of horns that wilt in the background, a lovely, subtle part of the melody. An electronic hum forms the backing of
Break Me
, with high-pitched guitar notes breaking into the chorus.
When you listen to a Van
Etten
record though, you're listening for her expressive, emotional voice. Whether she's forming gorgeous harmonies with herself on
Nothing Will Change
or belting out angry and anguish lines like
"Break my legs so I won't walk to you/ Cut my tongue so I can't talk to you/Burn my skin so I can't feel you/Stab my eyes so I can't see"
on
Your Love Is Killing Me
, she always leaves you hanging on to every syllable.
It's a good thing she does too, since Van
Etten
is one of the few artists who can continuously, almost exclusively sing about love without it becoming
cliche
. Two of the best sets of lyrics on the album are the ones that deal with that line between romance and career.
I Love You But I'm Lost
is a beautiful piano ballad that puts all the focus on her wounded voice, as she sings
"Tearstains, I believe it/I'm in Houston/I can't read my lines."
On
I Know
, she says
"Now I turn into a lover on the side/I cannot tell the poet eye apart from mine."
But despite the troubles, the love is still there:
"And here we are apart, but here together are our hearts/That now beat for each other, although far"
Despite all the heartache, all the sadness found on
Are We There
, it ends with a laugh from Van
Etten
after her headphones fall off on
Every Time The Sun Comes Up
. It reveals yet another side to this musician, who has continued to pull back layer after layer since she first appeared on the scene. Her pain, her flaws, her confidence and her laughter make her one of the most relatable songwriters around today, as human as the rest of us.
5 June, 2014 - 04:45 — Joe Marvilli