Music Reviews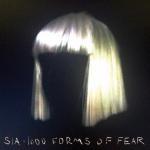 Sia 1000 Forms of Fear
(Monkey Puzzle/ RCA)
Buy it from Insound

Hey all you bonny and blithe folk—good luck finding a soundtrack to suit your cheerful sensibilities this year. Prick your ears however, conflicted lovers and anguished youth, and pause your Ed Sheeran, your Lana Del Rey and your Sam Smith. Sia has come to wail away her woes, and you might want to hear it. Not that she's any sort of newcomer. Before becoming this decade's Linda Perry, Sia had already released five albums and was making her way up in the music business. Still, it wasn't until she spent a year or so writing hits for other artists that one of her own albums started gaining more traction in the media. Lead single Chandelier is making waves (no doubt aided by that outlandishly fascinating video) and now with 1000 Forms of Fear, the quirky Australian hired to give other artists more interesting voices is getting to show off her own.
And she has much to sing about. 1000 Forms of Fear is an album about loneliness, confusion and inner turmoil of the most combustible type. If there's one thing Sia knows how to do remarkably well, it's how to market pain in the space of three to four minutes. The dysfunctional-party-girl trope is done to death these days, but Sia sings of swinging from the chandelier with such blaring ferocity the torment is palpable. If it's not the ecstasied misery of drinking away her woes in a club, it's fame and vulnerability (Big Girls Cry) or the dangerous allure of relationships either too right or too wrong (basically every other song). True, most of the themes on 1000 Forms of Fear are pretty generic, but Sia's lyrics are bold and visceral, and the production is dynamic without being gimmicky. That, combined with Sia's bendy, roaring vocals, makes for a genuine and memorable album at the very least.
But let's talk about those vocals. Judging by the overwrought yelps on Eye of the Needle, Sia is clearly not immune to the loudness=virtuosity fallacy that the pop music industry so insistently advocates (thanks, Whitney and Mariah). 1000 Forms of Fear is no record for those who like their vocals subtle and demure. Not only does Sia belt like she's declared war on her larynx, her voice has that odd raspy timbre that distorts every word and syllable. Google the lyrics because chances are you won't understand a word she's saying. It's not like she needs to prove herself through acrobatics and unconventional diction, after all. With all her expertise in emoting, Sia most likely knows the power of restraint. But by the time we get to Fair Game, where she enunciates normally and sings soberly about a man she can finally respect, we realize how tiring her bombastic choruses are and how enrapturing she can sound if she would just calm down a bit.
Then again, artists like Sia deliver specific goods, none of which include singing meekly into a microphone. Elastic Heart and Free the Animal are standout tracks that benefit from the vocal fireworks, for example. Even the post-chorus ''woahs'' of Free the Animal, where most singers would abandon everything to howl away the hook, is dazzlingly processed to sound like ping pong balls zipping back and forth. It's exciting and original, along with the progression of the lyrics in the chorus: Detonate me/ Granulate me/ Decapitate me/ Emancipate me. In one verse, Sia encapsulates the cycle of self-destruction and empowerment that sustains the album. Burn with me tonight, she cries on Fire Meet Gasoline. You bet we will, Sia.
15 July, 2014 - 04:26 — Luiza Lodder