Music Reviews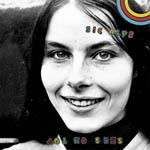 Sic Alps She's On Top
(Drag City)

Sure, what's another single?
As sure as water is wet, cotton is soft and Yeezus is overrated, Sic Alps is one of the more difficult bands to collect, their propensity for issuing singles (7"s, 12"s, cassettes…they do not discriminate) comparable to the delivery of machine gun fire. As long as I've been a fan, the band has kept me vigilant, quick to pull the trigger on any and all newly issued limited edition of whichever or whatever seems fit to print for the time being. It's as if the band luxuriates in both its prolificacy and obscurity.
Such hasn't been the case lately, though, as Drag City seems to keep both their singles and LPs in circulation. This new 3-song 12," She's On Top, follows the band's self-titled long-player, which revealed musically some progression in sound, their normally abrasive shitgaze rock n' roll now cleaner and more refined. Sic Alps has worked its way to this tonality, its development having entailed more than simply tuning their guitars. For the uninitiated, the opening chords of the title track might sound like something the Black Keys could've conceived, that rough, bluesy tone more in line with millennial garage rock than the underground distorto-rock pollution they've normally cultivated. Clarity is a new pursuit, a direction impossible to avoid since chords drenched in reverb may no longer provide enough room to move. Getting caught in a groove, riding it to fruition with a couple distorted scrapes along the way: Sic Alps might be ready for primetime.
Even so, singer/guitarist Mike Donovan remains the signature presence for this band, his register more melodic and less the slo-mo Lou Reed affect he's exuded with past releases. With Carrie Jean, Donovan's enunciated 'tude drags over top the song's patient strut, guitar textures run through the backdrop in spirals and stabs. Biz Bag is up-tempo fun, propulsive and crunchy. There's an arena friendly accessibility here rhythmically that's interestingly defied by the tone of its main guitar, as if Cheap Trick and The New York Dolls each contributed notes to the song's development. In that some element of alienation still exists in what, for them, could be considered a commercially viable release, Sic Alps remains for me the ONLY band that did the garage thing right, refusing to cultivate nostalgia through the usage of vintage-sounding equipment and recording techniques and instead focusing on exquisite simplicity and overt sonic oblivion.
3 July, 2013 - 04:31 — Sean Caldwell