Music Reviews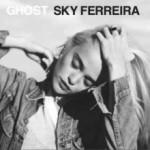 Sky Ferreira Ghost EP
(Capitol Records)
Buy it from Insound

Although Sky Ferreira has only released two EPs so far, she seems to be undergoing an identity crisis. Her first release, last year's As If!, was chockfull of club-bangers and electropop. The songs on her latest release, Ghost, are far more varied and altogether show a significant improvement. The issue comes with the amount of variety found here. It shows three different paths forward that she can take for her first full-length, but the styles don't mesh too well over the course of 20 minutes.
The EP starts surprisingly with the acoustically-driven Sad Dream. The sunny, laid-back guitar brings up images of the California beaches the L.A. based artist probably spent time on. Ferreira's voice aims for darker material though. Her singing is smoky and full of regret, almost cracking out of sadness in the chorus. Lines like "Hope the guilt will dim and fade/A fire baptism engulfs my shame" express her hurt wonderfully. Similar in tone is the title track, which musically sounds like something off Beck's Sea Change. Acoustic strums build over each other to create a serene atmosphere, while the electric backing guitar provides little twinges of melody.
In the middle of these two stripped-back tracks comes Lost In My Bedroom, a fast-paced, electronic number that completely clashes with the previous and upcoming songs. Synths sparkle against Ferreira's sly vocals and the pulsing beat pounds away in the background. It is not a bad song, but it doesn't fit at all within this EP. It's the most representative of her past, rather than the future she's trying to build here.
The EP closes out with two electronic rockers. The first single, Red Lips, was partially written by Garbage's Shirley Manson and it shows. Ferreira's voice is breathy, but displays a no-BS attitude. The distorted electric guitar gliding over battering drums definitely sounds like a Garbage number, though that's not a bad thing. Everything is Embarrassing moves firmly into New Wave territory. Propelling percussion fits well alongside the deep-tuned piano chords. The vocals are crisp and smooth as well, adding to that 80's imagery.
While all of the songs on the Ghost are good, the EP's identity crises will keep pulling listeners out of the experience. Hopefully, this effort is just a stepping stone for Ferreira, so she can find which musical ground is the sturdiest to stand on for her first full-length album.
29 October, 2012 - 11:21 — Joe Marvilli