Music Reviews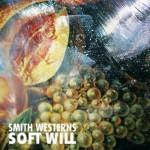 Smith Westerns Soft Will
(Mom & Pop Music)

Tally one entry into the unofficial 2013 'sound of summer' competition. After a two and half year hiatus, youthful retro-rockers Smith Westerns return with a 3rd helping of shimmery, synth-laden pop tunes. Textures ripple with haze and heat, rhythms run lethargically, and melodies billow along in the kind of breeze that only comes when the windows are rolled all the way down. The Chicago-based band's latest 10-track set follows 2011's Dye It Blonde, which spit-shined the grimy textures of their 2009 debut into a dream-glam treatise on giant hooks and memorable riffs.
Fast-forward 3 years and the group have morphed into a more mellow mold without undergoing a wholly transformational reinvention. Relying once again on producer Chris Coady (Beach House, Wavves, Gang Gang Dance, Delorean, Islands), Soft Will largely follows the formula of its predecessor. Vocalist Cullen Omori's cooing vocals meld into surrounding swaths of sound, Hal James' drums snap and skip with unobtrusive, complementary rhythms, and Max Kakacek's lead guitar still spouts anthemic, bend-ridden guitar riffs. With bassist Cameron Omori rounding out the ensemble, the now-quartet (James being the most recent addition) displays the same precocious penchant for melody and composition that first raised eyebrows beyond Kakacek's basement studio.
It's this knack for songwriting that underpins Smith Westerns' success, and Soft Will finds the band growing more comfortable and capable still. The colossal chorus of Best Friend arrives with Kakacek's main riff soaring skyward to mirror Omori's upper-register refrain. Idol, the album's second single, embeds an earworm through Omori's tactful repetition ("Tell me, tell me, tell me…"). Elsewhere, XXIII is a bold all-instrumental affair that channels Pink Floyd's Breathe in tone while meandering through various verdant soundscapes. From a quality standpoint, the track list is solid from top to bottom.
Dreamy, quasi-psychedelic timbres have always been Smith Westerns' dominant aesthetic, and pairing that retro sound with strong adhesion to verse-chorus structure is endearing but limiting. Although digitized effects modernize and distinguish their sound, Soft Will is too preoccupied with retrospect to forge an identity of its own, too busy judging the Idol to think about becoming one itself. Imitation is truly the most sincere form of flattery, and it's hard to imagine four kids in a garage becoming inspired to form Jones Easterns anytime soon. "Good" and "nice" are adequate descriptors for this effort, not "awe-inspiring," "innovative," or "groundbreaking." Luckily for Smith Westerns, they've made 3 albums before some college students make their first trip to the liquor store.
Soft Will won't enter the annals as album of the decade, but it showcases the tools and talent to make it happen one day. Until that time arrives, listeners will be more than content to fade into an enjoyable set of simple songs that evoke the sound of summers long departed.
26 June, 2013 - 20:56 — Benjamin Jones