Music Reviews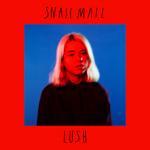 Snail Mail Lush
(Matador)

Sometimes, there are artists that come along and turn a ripple of attention into a tidal wave of hype. Word-of-mouth leads to sold-out shows, a breakthrough song and promotional opportunities that balloon to the label of "the next big thing." Such anticipation for the next release of a new musician can be overwhelming. After all, all the buildup quickly falls apart without the music to back it up.
Over the last year or so, Snail Mail has been the artist under this spotlight. The solo project of Lindsay Jordan hit the ground in 2016 with acclaim for her debut EP, Habit. Since then, she's taken her time in crafting her first album, Lush, to make sure it lived up to her own high standards. The result is a great release that both justifies the attention and leaves room for further achievements in the future.
The biggest strength on Lush is Jordan's ability to get across messages and music simply and concisely, with lines and melodies that lodge themselves in your mind. There are very few frills here to speak of, though any additions made beyond guitar, bass and drums usually fit the song's vibe. This clarity is most clearly heard on Pristine, about being stuck on an ex-lover. Over crisp guitar chords, she sings, "Is there any better feeling than coming clean? / And I know myself and I'll never love anyone else/I won't love anyone else."
It's tough nowadays to make a clean guitar sound interesting, but Jordan does so with ease. Let's Find An Out is a highlight, her gentle fingerpicking an ideal bed for ruminations on aging and new beginnings: "You're always coming back a little older / But it looks alright on you." On Stick, her controlled, warm vocals stand out in the middle of cymbal crashes and wavy chords, a rock surrounded by ocean waves. Full Control hits even harder. However, other tracks like Speaking Terms and Golden Dream don't do enough to stand out from the songs surrounding them.
Some of the best moments on Lush are when Jordan presses her clean sounds against some dissonant elements. The breeze of Deep Sea is buttressed by swelling French horns. On Heat Wave, her gentle, textured guitar strumming is melded with cutting, fuzzed-out riffs. It's just a taste of Jordan's true prowess on guitar. To wrap things up, Anytime brings in a church organ to fill the sound behind her guitar and emotional lyrics. In her closing words, Jordan lets go of her former lover, but also vows to be there if needed: "And I'm not in love with your absence /'Cause I have fallen so hard for the space / And I've gotten to know the quiet and still forgive you anytime." It's a beautiful and complicated ending, as many real breakups turn out.
Lush marks the arrival of an immensely talented singer-songwriter who also still has much room to grow. It may not live up to those more exuberant expectations of an instant classic, but it's still an admirable, skillful piece of music that leaves me excited for what comes next. In this case, Jordan hasn't finished the race. She's just arrived at the starting line.
19 June, 2018 - 04:35 — Joe Marvilli