Music Reviews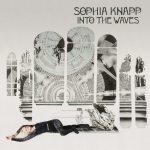 Sophia Knapp Into The Waves
(Drag City)
Buy it from Insound

I can't imagine what the emotional struggle is like for newer artists under the realization that they've been compared to musical gurus. When Sophia Knapp was settling into her polished psychedelic-pop compilation, Into the Waves, was she ready for the torrential downpour of links to icons like Stevie Nicks, Olivia Newton John, Nancy Sinatra or Françoise Hardy? I think I would puke. Hopefully she has a stronger stomach. I must say that I find these comparisons incredibly accurate. Regardless if you enjoy this type of music or not, you can't say that Sophia Knapp's arrangements are any less sophisticated than the previously mentioned lady rockers. With that being said, I hope that she's accepted the fact that expectations have been graciously heightened.
In a number of interviews, she puts the debut album into a "Piscean Pop" classification and describes it as emotional themes told through subconscious imagery. Into the Waves is an invitation to float. The mature lyrics and vocal performances in conjunction with the flow of disco-like melodies makes you feel like you're walking the fine line between fantasy and reality. It's a lovely indulgence. The inevitable collaboration between Knapp and Bill Callahan is a nice accessory, but it's not the focus of this album. Both artists fall on very different places on the vocal spectrum. Bill Callahan brings an earthy rumble that adds touches of folk to tracks like Weeping Willow and Spider Web. One of the most enjoyable transformations takes place on Close To Me when it shifts from elegant acoustic guitar to super fun glamour beats made for strutting. Many critics have attempted to place this album into a certain period, but there's no way you can limit this to late 60's psychedelic, 70's disco or 80's rock pop. It's a collection of all. One of the variables that make this album so great is the sound that pushes you back and forth between the different periods of time. I suppose the concept of time has no place in dreams or subconscious imagery anyway, so feel free to celebrate this album from a timeless perspective as well.
Depending on your mood and if you actually have the ability to let go and "float" in the Western world, there could be spots where the dreaminess turns to dullness. However, Sophia Knapp should be applauded for reviving the classic sounds. When executed poorly, an unadorned resurrection of conventional music genres can be a total disaster. It can make you feel like you're stuck in a creative cul-de-sac. Into The Waves proves to be a delightful flashback.
4 April, 2012 - 11:59 — Randi Dietiker