Music Reviews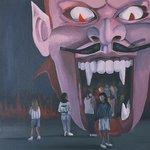 SPIRIT OF THE BEEHIVE ENTERTAINMENT, DEATH
(Saddle Creek)

Since 2014, Philadelphia group SPIRIT OF THE BEEHIVE have lost themselves in sprawling pop psychedelia. The Zack Schwartz and Rivka Ravede-led project is equal parts menacing and blissful, crafting homespun recordings comprised of ascending melodies interspersed with swells of ambiance and warped field recordings. But it's much more approachable than it sounds. Usually, the hooks are impeccable, and the musical detours they take feel purposeful. Getting lost in their intersecting ideas is essential to the experience—and once you dive deeper into the hallucinatory lyrical content, you begin to get a better sense of their singular vision.
After 2017's Pleasure Suck, every subsequent release the duo has released has presented an opportunity to engage with their more experimental tendencies. Whereas their debut effort featured heavy rippers like tulsa, ok blended in with the dreamier, searching deep focus, it wasn't until 2018's Hypnic Jerks that they attempted to take things more free-flowing and less knotty but with the dissonance cranked up. ENTERTAINMENT, DEATH is another attempt at playing with that balance, sans taking things in a darker, even campier direction—the equivalent of watching an eerie midnight movie that bridges the gap between artful and creepy.
For starters, the opener ENTERTAINMENT doesn't even attempt to explain its madcap intent. Ravede seems to be caught in a fever dream, traveling past a road of regret as fragments of sound, both piercing and pleasing, fade in and out: "Who will decipher pain from the lie?" Aided by new member Corey Wichlin, who also contributes samples and keyboard work, the trio weave in and out between riveting and bizarre rhythms—from the arched chillwave of RAPID & COMPLETE RECOVERY to the freaky dead disco of THERE'S NOTHING YOU CAN DO. "Dissolve in the fragmentation," Revede says on the former, and you best believe he commits to that mantra. It took the band four months to complete the album compared to Jerks' one-week session, and the effort shows.
But there's also a lighter, airier side to ENTERTAINMENT, DEATH—especially in how they double down on Hypnic Jerks with the more straightaway folk arrangements of GIVE UP YOUR LIFE and on the hazy, trip-hop breakbeats and lucid guitar textures of THE SERVED IS IMMERSED. If somehow Alex G collaborated with My Bloody Valentine during their Isn't Anything era, then this pair of tracks are as close as it gets to getting that unlikely marriage. At first, the amusingly titled I SUCK THE DEVIL'S COCK alludes to the wacky psych explorations of Olivia Tremor Control—a band they've emulated in spirit—before it veers into a confounding collage of thuds, synths, and erratic sounds. Even if their early influences remain intact, it's as if they're waving goodbye to them in their attempt to be as audacious as possible.
It shouldn't come as a surprise how SPIRIT OF THE BEEHIVE add layer upon layer of complexity to past ideas on ENTERTAINMENT, DEATH. Besides, you really can't expect anything less than from a band who shares their band name with Spanish director Victor Elice's allegorical 1973 fantasy drama. The trio seems more determined and passionate in how they concoct their witches' brew of ideas, knowingly aware of how the plot unfolds while convincing us that anything kept a secret doesn't matter. As oblique as their music has become, it uniquely makes sense to them.
12 April, 2021 - 06:41 — Juan Edgardo Rodriguez