Music Reviews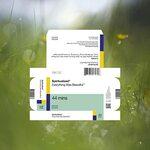 Spiritualized Everything Was Beautiful
(Fat Possum Records)

Throughout his 30-year-run as the musical force behind Spiritualized, Jason Pierce has underplayed the space-rock project's ambitions with a touch of humor and pathos. Exhibit A: Pierce will claim to take a minimalist approach with his orchestral tendencies, later to reveal that he'll play over a dozen instruments to achieve his elaborate productions. But the essential element is for him to make it sound effortless, which is hard to debate considering the consistency with which Pierce has released once narcoleptic-fueled epic after another. The contradictions he embodies continue to seep into his work, but Pierce and his bandmates mostly like to play it straight; judging by the sense of humor of his album covers, Everything Was Beautiful is their new pill on the market.
On his ninth LP, the English musician continues to poke a little fun at his own expense, alluding to being in a state of perpetual medical dependence while reveling in the joy of being human. Those motifs take a grander, more melancholic sweep, on which Pierce sings succinct romantic pleas so sweet that he can't contain himself. He meant for the album to go together side by side as a continuation of 2018's And Nothing Hurt, but ended up shelving it temporarily thanks to the suggestion of his label Fat Possum. They were right: Both work as separate entities that give each other some much-needed breathing room, especially since they sound so self-contained in their seamless, glowing ebb and flow.
Regardless of the narratives his albums usually take, some more sobering than others, Pierce intends to share his joyful impulses to the extent that he might feel some shame for coming in a little too strong. "Darling, I need you to tell me to stay/Say that you won't let me go," Pierce pleads as if trying to make amends on Crazy, a steady country ballad where he adds his usual nods into gospel music. On the gossamer opening track, Always Together With You, he shares the many ways he'd devote to someone over a soaring amalgam of strings and cosmic transcendence reminiscent of 1997's landmark Ladies and Gentleman We Are Floating in Space. And yet, Pierce builds the entire track upon a simple vocal doo-wop melody. Suddenly, his views about wanting to work in an unembellished manner begin tomake a little more sense.
Pierce has got this formula down to a science, to the extent that we might even take him for granted. But make no mistake: even when he's quoting from acclaimed writer Kurt Vonnegut on the album's title, Pierce commits to an intricately layered masterwork that brims with beauty at every turn. He has come close to writing a Motown-inspired ballad-like Let it Bleed (For Iggy) before, but here, in typically unorthodox fashion, Pierce nails down that aesthetic while serving up Britpop grandeur this side of Blur's The Universal. And then there's album centerpiece, The A Song (Laid in Your Arms), an exhilirating near-finisher that starts elegantly with a krautrock fake out before it suddenly rockets off into a horn-flecked rocker—just one of the many visceral thrills Pierce surprises us with during its second half.
Pierce fittingly brings up back into spiraling consciousness with the heavily-layered drone groove of I'm Coming Home Again, which sounds as lively as it does funereal. All the prime tenets of Pierce's life and work, past and present, are condensed into this one moment; he's taken us through this road before, plunging into a purgatory after experiencing the highest high as he steps back into reality. Mind you, with a spectacular choir backing his descent. But he doesn't feel listless or numb anymore, which, in turn, makes him more sensitive to the idea that things will inevitably not always go his way—so why not enjoy the beauty while it's there.
25 April, 2022 - 01:18 — Juan Edgardo Rodriguez