Music Reviews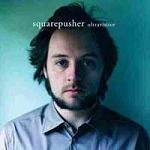 Squarepusher Ultravisitor
(Warp)
Buy it from Insound

It must be great being Tom Jenkinson. You can just feel the love all round. Despite a quiet year in terms of musical output, the man behind the 'pusher has been garnering plaudits from weighty voices like Thom Yorke, The Neptunes and Outkast's Andre 3000, who described 1996's Feed Me Weird Things as 'so far out you can't even imagine what he's thinking.' Filmmakers Sofia Coppola and Chris Cunningham have soundtracked with Jenkinson's work, while his music has turned up in acclaimed dance, video and performance art. Ultravisitor was trailed over the summer in UK and US shows, and earned praise from mainstream and indy media alike. Reviews of his work in collaboration with the London Sinfonietta can be found elsewhere on these pages - yes, I loved those shows too.
So Ultravisitor is an album carrying heavy expectation on its back, both amongst the small army of Squarepusher fans and interested bystanders. Jenkinson, though, ensconced in his Essex house, has been quietly working away at redrawing his own musical map. The result is an album of astounding vision, drawing on the acid, drum 'n' bass and funk at the heart of the smash Go Plastic. It's also an album that showcases Jenkinson's live skills, his love of jazz drums and bass guitar. Key also is the tension between his traditional musical skills - the bewildering percussion on District Line II or the flumpy bass on 50 cycles - and the wilder reaches of programming and computer music, as on the psychopathic opening of the latter, an echo of Hecker or Autechre at their very strangest.
It's hard to underestimate how big and strange some of this massive album is; the title track is the ultimate Dr Who soundtrack, a broad, symphonic, almost sacramental sweep; Andrei boasts crossbred Spanish guitars, while Meneled is, as the name might suggest, the work of the lunatic lurking in the square. Not everything comes off - that would be impossible, given what is being attempted; An Arched Passageway appears unfinished, a curious mix of under-rehearsed funk and horrible noise. But where it does work, the result is astounding beauty and art; the bossa nova lullaby of Tommib... or Iambic 9 Poetry, which builds from its chilled high-hat opening to a choral piece Handel would be proud of. Circlewave is reminiscent of French geniuses Headphone, while standout track Tetra-Sync has a tenderness and drive unfound elsewhere. Here force and form work perfectly together, the driving rhythm section anchoring the astral excursions of zeroes and ones.
Much of this album is without par. Problematically, such is the ambition of Ultravisitor that tracks in this 80 minute opus do fall short. Like other great innovator composers, like Stockhausen or even Shoenberg, Jenkinson's rightful peers, not everything that is commendable is necessarily fun to listen to. But for those moments where everything kicks off perfectly - a normal albums worth of material, at least - Jenkinson reveals himself as a peerless gem.
25 January, 2004 - 00:00 — Ben Bollig