Music Reviews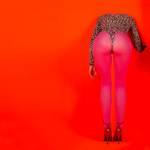 St. Vincent Masseduction
(Loma Vista)

Welcome to Annie Clark's imperial phase. Clark has never been one to follow any preconceived notion of what a St. Vincent album has to sound like, and yet she's grown into an undeniable pop force, where she follows her instinctual gut and furthers her experimental approach. It's a big step for an artist who might be concerned about meeting such high expectations after a ten-year run. But Masseduction is another confident step towards cult supremacy, where she deliberately entices without thinking about the danger of exposing too much of herself.
Clark considers Masseduction to be her most open-hearted and confessional work, and to an extent, it is, except that it's also neutered by searing layers of aural artifice. Which could mean that she's also attempting to humanize the frizzy synth stabs found on her last self-titled release. St. Vincent did earn its spastic freakouts with some of her most economical writing to date, after all. But up to that point, she hadn't really broken through with an instantly recognizable single, rectified brilliantly with the absolutely bonkers Digital Witness, and it took time for most listeners to fully invest in Clark's well-rounded artful pop vision.
Clark decided to begin Masseduction's promotional cycle with the release of New York, a tender ode to the city that gave life to her past romantic relationship. It expressed feelings of bittersweet regret with a spare piano arrangement. Clark had trained many to expect the unexpected, but not this way, so it led many to believe that it a was a sole recording to whet one's appetite until she made her bold return. Little did we know that New York was something of an outlier to Masseduction's grand scheme, a quiet moment of reflection that fits into Clark's sudden changes in mood.
Hang on Me, the album's opening track, is a fair response to how Clark acknowledges she's an unusual individualist who could not fit into mainstream pop's niche. "Cause you and me / We're not meant for this world," she admits, centered around a steady baroque pulse. Clark isn't really casting herself as a character, and like much of the Masseduction, it hinges on a series of first-person accounts that narrate a rather convincing story. Clark wants us to know that she's as vulnerable as us, and as the nervy eighties pastiche of Sugarboy attests, she wonders if she's meeting up to her fans' expectations over a jittery bounce that already has the clear signs of a glib crowd pleaser.
Much of Masseduction is characterized by its sensorial excess, bringing on board hitmaking pop producer Jack Antonoff to enhance the album's commercial viability. It's also a moot point given how Clark has gradually earned the love of both critics and audiences, and just like her parental protegé David Byrne, the road to perpetual relevance feels like a perfectly paced marathon and not a 100-meter sprint. His aim to give these songs a minty spearmint finish, though pleasing to the ears, don't add much to the album's overall presentation, and are sometimes even antithetical to Clark's baffling decisions. Just take Pills, for instance, where she assumes she's written a clever lullaby, fabricated as a playful riddle, about her over-reliance on prescription drugs: "Pills to wake, pills to sleep / Pills, pills, pills every day of the week." Los Ageless doesn't fare any better, where Clark wants to predicate about a small pocket of the city's fixation on appearance over a series of tired tropes. Clark has been more exposed to this social strata with her increased fame, sure, but it also sounds like a convenient excuse to accept her uninspired choices.
Clark is still a force to be reckoned with when she's at her most unhinged. Savior explores kink with humor and directness, dotted with jerky synth lines that serve as a source of cheap amusement, even if she's trying to underplay her sexuality to avoid any attachment. And the lounge-inspired Smoking Section is a fitting pairing to New York, an alarming dramatization of love at its most toxic that with a satisfying level of emotional resonance that, once it concludes, makes the rest of the album sound like one big missed opportunity.
It's somewhat off-putting to witness Clark, who handles her artful presence with mannered precision, discard any sight of a clear objective on Masseduction. Her artifice of style has always relied on a range of imperfect decisions, a musical savant that can make the conventional sound downright inventive. Clark has achieved this a total of four times, and even on here, there's the promise of another knockout. One that, unfortunately, takes the liberty of reshaping past half-baked ideas without really adding much flair to Clark's otherwise intriguing exploration of fame and femininity.
19 October, 2017 - 19:00 — Juan Edgardo Rodriguez