Music Reviews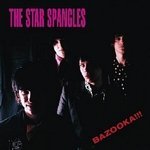 Star Spangles Bazooka!!!
(Parlophone)
Buy it from Insound

As we're reliably informed by the press release, the Star Spangles' live shows have already become notorious for attracting the famous and glacially cool,' which of course made perfect sense to No Ripcord, as we happened to be at one of their first UK gigs back in December. So, half a year and a handful of singles later, the album arrives complete with questionable name and the pressure to meet expectations high. Yet from the front cover showing the sharply dressed quarter looking all moody onwards, the Star Spangles prove themselves as the best from the latest bunch of NY exports.
Kicking off with current single I Live For Speed and followed by Which Of The Two Of Us Is Gonna Burn This House Down, it's a hi-octane opening. The former is a rush of energy more then suited to the Ramones debut album while the latter is an incredible burst of guts and passion which is still as likely to make you jump out of bed in the morning as it did on first hearing.
The Ramones connection is one that's been bandied around a fair bit, not least due to having a producer in Daniel Rey who has worked with the punk originators, and indeed on a song like Angela the only thing missing seems to be the ghost of Dee Dee shouting '1-2-3-4!'. But, somewhat thankfully, there's signs that the Star Spangles may move on from the sound of their debut album rather then become somewhat cartoon figures - I Don't Want To Be Crazy Anymore and In Love Again reveal a sound more Tom Petty's Heartbreakers then Johnny Thunders (yes, that's a compliment).
Where the album does begin to slip is when ideas run short: the covers of Crime Of The Century (a Thunders/Wayne Kramer tune) and the Hoodoo Gurus' I Want You Back (rewritten lyrically as I'll Get Her Back) may well show where they're coming from, but do little in the way of favours of the album, as does filler song Science Fiction/Science Fact.
On the whole, though, it's a debut album that shows plenty of promise as well as out-and-out rock and roll balls. Ian Wilson's sub young Tom Waits growl mixes well with Tommy Volume's Mick Jones-esque ear for a killer melody to great effect on the great majority of the songs (Wilson in particular shouts his way through L.A. with admirable aplomb).
No pretensions of being "art", no clever subtexts only understood by smart arse students on weed - it's only rock and roll and I like it very much.
11 July, 2003 - 23:00 — Peter Mattinson