Music Reviews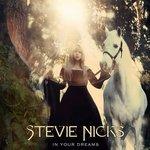 Stevie Nicks In Your Dreams
(Reprise)

In the many years which have passed since Stevie Nicks left Fleetwood Mac, she has failed to match the commercial success or ubiquity of her former band's music. Maybe it's wise, then, that her first studio album in over a decade, In Your Dreams, doesn't veer too far from the trademark FM radio rock which made Fleetwood Mac a household name and opens with a Rumours out-take, Secret Love, which has been dusted off and pulled into the 21stcentury.
In Your Dreams is helmed by production stalwarts Dave Stewart (of Eurythmics) and Glen Ballard who is probably best known for his work on Alanis Morisette's world-slaying Jagged Little Pill. None of the material here is as angsty as Alanis or as ear catching as the Eurythmics, but that's not to say that it's all bad.
New Orleans is a touching ode to the birthplace of jazz which shows that her bohemian lyrics are still as affecting as ever, and she channels the current vampire craze adequately on the predictably titled MoonLight (A Vampire's Dream). One of the more robust tracks, Annabel Lee, is based on a 19thcentury poem by Edgar Allan Poe; the storytelling lyrics about a love that lasts beyond the grave and an arrangement which slips into classical mode during the middle of the song are a perfect match for her gypsy chanteuse image. While In Your Dreams has some highs there are also several undoubted lows which include the rollicking country rock of the title track - more dated than it is catchy - and Wide Sargosso Sea which meanders in search of a direction - a fate which befalls many of these songs.
The rustic beauty and sweeping string arrangement of Italian Summer gives the album its strongest track. It's a shame that it appears 12 songs into the track listing, by which time many listeners may have already lost interest. Over the course of this slightly bloated track listing there is too much focus on the soft rock element of her sound and this which works to the detriment of her fascinating lyrics and bewitching theatrics. This album may have been more engaging if she had pushed beyond the limits imposed by her brand to explore new territory instead trying to faithfully retread past glories. Fleetwood Mac plan to reform in 2012 and, judging by many of these tracks, that's probably for the best. Stevie Nicks is yet to deliver a solo album to match her legendary status.
16 May, 2011 - 07:26 — Gary McGinley