Music Reviews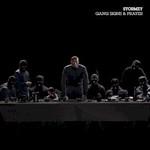 Stormzy Gang Signs and Prayer
(#Merky Records)

Grime MC Stormzy recently said with an interview with Capital 1xtra that every time he gets on the mic he spits with a "point to prove" mentality. This is evident throughout Gang Signs and Prayer as Stormzy arranges street declarations and religious fervor side by side in a way that makes for a compelling piece of art.
Gang Signs and Prayer begins with the earth-shaking First Things First. In an interview with the Fader, Stormzy declared this track as an unapologetic and raw "punch in the face" aimed at his haters and detractors. The song touches on the satisfaction his enemies felt when he canceled multiple tour dates in 2016 and sternly talks of his struggles with an attitude shown best in lines such as "Looked the devil in his face like motherfucker, do your worst." These heavy-hitting lyrics tackle a chilling beat composed of unwinding drums and spiraling flashes of sound that hit the ear like a stunning light show.
Several more tracks in a similar vein as First Things First are laid throughout the project, one of the best of these being lead single Big For Your Boots. Stormzy said in an interview with Beats 1 Radio that this is his personal favorite track off of the album, and it sure isn't a bad pick. Stormzy lays waste to a double-time, genre-bending beat as he addresses the unfortunate conceit of others that he feels no shame in bringing down a notch: "Devil on my shoulder, I don't lack. Hit 'em with a crowbar, I don't scrap."
There is another side to Gang Signs and Prayer, however, that is neatly intertwined between this type of track. This is one of faith that is best portrayed on the tracks Blinded By Your Grace parts 1 and 2, where Stormzy praises God exceedingly well, particularly on pt. 2 where singer MNEK joins him on the hook to truly bring gospel to grime. This faith-based theme can also be found on many other parts of the project when Stormzy drops lines such as:
Brother, I'm good, I stay with the lord
Bible carrier, that's my sword
Matthew 12, so I don't talk
John 16's why I never got caught
And you thought Chance was the only one who rapped about God.
Stormzy makes every minute of this album count. By giving a voice to both the street and religious sides of his life he is able to produce a well-rounded, exciting project. He is not the best pound-for-pound spitter, but he is certainly climbing the ladder and getting close. His true strength lies in his inner-depth and in the way he circulates his emotions skillfully for an entire album. Stormzy brings a great deal to the table. What he does next is certainly worth waiting for.

3 March, 2017 - 06:00 — Michael G. Barilleaux