Music Reviews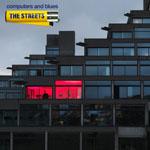 The Streets Cyberspace and Reds & Computers and Blues
(Atlantic Records)
Buy it from Insound

It's the end of an era. Since his 2002 debut album Original Pirate Material, The Streets, the nom de plume of rapper Mike Skinner, has created a rich catalog of meaningful raps forged by the sounds of the alternative hip-hop and UK garage movements. Now, Skinner plans to leave behind his famous moniker for an as-yet-unknown creative future. But as a parting gift, the MC leaves fans with two albums: the mixtape Cyberspace and Reds and his fifth LP Computers and Blues. As two separate yet related releases, each strive to paint a different emotional picture and have their own set of strengths and weaknesses. No matter their aim, each are dynamic offerings to go out on.
Like its corresponding color, Cyberspace and Reds exemplifies the power of red: hot, fiery, passionate. It's super sexual at parts, specifically in cuts like Came In Through The Door, a hot club banger about booze, partying it up, and a very powerful young lady with a good head on her shoulders. This record has also got a tinge of anger to it, like in 4 O'Clock, which features the simple yet effective line "At 4 o'clock today I'm gonna punch you in your face". The majority of the album, though, is all about great beats and tons of amazing cameos from UK MCs like Ice Kid and Loudmouth. It's definitively the more energetic, in-your-face side of Skinner, one where everything gets machine-gunned into the ears of the listener with almost no room offered to absorb anything else other than tremendous breakbeats and some of the grimiest, Cockney rhymes imaginable.
While Cyberspace and Reds burns with the fire of a thousand Birmingham residents, Computers and Blues takes a more mellow, almost mature spin on the life of Mr. Skinner. While the previous record could come off a little more one-sided (or focused if you're a party animal yourself), Computers and Blues has everything from the rantings of a paranoid agoraphobe (Outside Inside) to ignorance on the human condition (Puzzled By People) to the fears of a soon-to-be dad (Blip On A Screen) to realistic expectations of lost love (We Can Never Be Friends). Each of them contain some part of Skinner's trademark fusion style, but they're less muddled with the comings and goings of cameos. Sure, the production is less intoxicating, but the emotional sentiments are both heartbreakingly tragic and without an overt amount of cheesiness.
All that's well enough and good, but undoubtedly the question most readers want answered is the following: which one is better? If I were to answer it the PC way (which I will), it'd be completely unfair to compare them since they're clearly different aspects of the life and psyche of their creator. After several listens, however, Computers and Blues feels like it was meant to be Streets' swan song, but that only may be because Cyberspace and Reds was given away in exchange for the UPC code from Heinz tomato soup. But for sheer instant appeal, the winner has to be Cyberspace and Reds, which is clearly one of the most bizarre, absurd, and exhilarating records dropped in 2011, while Computers and Blues requires a great deal of thought and introspection before it can be truly valued.
Further complicating the dichotomy, though, is that both records have moments their opposite exemplifies. Cyberspace and Reds has the powerful spoken word performance of Something To Hide (I dare you to not get goosebumps during Skinner's poetic rant). Computers and Blues has Roof Of Your Car, with a faux reggae/dub beat that makes it so damn hard not to fall in love with its cutesy universal applicability. Of course, this little tidbit may be the most telling piece of information about the career of The Streets as it seemingly comes to an end forever: the world can be a scary place, where terrible things happen and we're left to ponder it all. That doesn't mean, however, we can't have a damn good time doing so.
5 February, 2011 - 22:01 — Chris Coplan