Music Reviews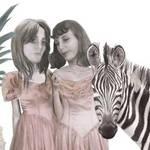 Stricken City Songs About People I Know
(Kora Records)
Buy it from Insound

In 2008, I unexpectedly stumbled upon Stricken City's music. Quite smitten by their singles Tak o Tak and Lost Art, I rapidly concluded that this was some kind of a hoax. At first glance, they seemed like the next hyped darlings to have been produced by some forceful marketing consultants for the indie masses. How about dressing a couple of youngsters with runway fashion wear, teach them to strum a few irresistible pop hooks, and make them dance until sundown? Oh, and by the way, give them some MTV Europe airplay. Not even Milli Vanilli could cook up something like this.
A year passed. My iTunes count for Lost Art was nearing around 25 plays, which doesn't account for all the times that I watched that awful video on YouTube. I came to the conclusion that this was the sort of band that I would only listen to, but couldn't really stand their anti-grassroots approach. This sort of PR push could garner them some serious backlash in the long run. A novel titled "You Could've Been So Much More: 21st Century Tales on Indie's Rise and Demise" would feature a chapter on Stricken City, reminiscing on how the Londoners were forgotten when, in reality, they weren't even discovered. But, come on, they just have two really good songs, so I'll give them the benefit of the doubt.
Since Stricken City's music is cloyed to fashion statements, the initial assumptin is that the four piece will inevitably gloat on pretentious manifestations, which is far from the truth. So far, the imagery hasn't really damaged these instantly attention-grabbing tunes. Their leader is called Rebekah Raa, a tall, natural beauty who comes across like a younger/peppier Patti Smith, but still boasts a certain worn down stance alongside a perfect body to pull off any outfit she desires. Still, the kids will drool over her elongated features while she seduces them with the Korg as she engages in some stage antics with no avail. Her voice at times recalls a subdued Karen O or a prepubescent Bjork, although with some practice, her voice could incorporate the bravura of a Spanish flamenco singer. Change those words to the Spanish language and she could accompany the livestock traders at Seville for Halloween.
Stricken City have finally released Songs About People I Know, an incredibly brief album - they call it a mini-album - with eight songs, hardly a blunder in sight, and a hell of a lot of promise. For once, just forget about the dim-witted pink eagle-feather war bonnets or kitschy artwork; in this case, it serves to say that the music definitely speaks for itself. And it does. Gifted, a short but haunting minute and twenty-three seconds, reflects upon one's insecurities and being trapped in the confines of a failed relationship, all in the form of a cappella. It feels really intimate, as if in the song itself, there would be an image of a torn woman, singing to herself in her room while her kids watch television with their dad in the living room. It certainly leads to interpretation, but the issue brings to mind some nice debates. For a debut song on record, that's certainly an achievement.
After such a strong beginning, Stricken City have much to prove, but their agenda for the twenty minutes that follow will make the believers buzz and the skeptics question even more. Thankfully, there are some unexpected surprises throughout in their quest to prove that they're all about the songs. Pull the House Down is an instantly likable song, featuring a jazzy bass line, atmospheric keyboard touches, and the touch of some drumsticks hitting the metal wire of the snare drum, instead of always relying on some dance-punk inspired hi-hat repetitions. Small Things reveals the discovery of guitarist Iain Pettifer, a versatile performer that knows how to craft some reverb tinged jangle, since the guitar screeching becomes a centerpiece to the sort of sound Stricken City aspires to; they accurately trim the edges of their songs with much precision. Killing Time sounds like a bygone disco cut that was just too alternative - and dour - for the dance floor, as if the spirit of Deborah Harry was buried underneath the coke-riddled crowd.
The rest of Songs About People I Know may not be revolutionary, but it's far from formulaic, especially when the four-piece have the songwriting chops to make them their own. P.S. is delicious guitar pop, a three minute song with synth laden choruses and rapid drumwork that recalls post-punk's escalating fury , making the end result one that's both exhilarating and just plain fun. But then they follow with Sometimes I Love You/Sometimes I Hate You, an endearing two minute piece about going to Paris in search for spontaneity and enjoying the simpler things in life. The French accordion emphasizes the imagery with romanticism and a lungful of emotion, even if it brings to mind the fantastical scope that recent inductees The Mummers brought earlier this year.
Stricken City draw from just about any influence you can think of, but they're well aware of their strengths and limitations. While they flaunt their skillful pop with aggression, they'll unpredictably shift to something completely different with self-assurance. Terrible Things ends the bunch with a solemn Raa, singing to the tune of a piano that drifts and crescendos, synching the movements of her verses with precision. It's the appropriate way to end an album that balances both cunning musicianship and a penchant for thematic melancholy.
Songs About the People I Know is one of the most exciting guitar pop albums in a while; a title previously held by Love is All's raunchy, yet tasteful Nine Times the Same Song. Even if they barely have a full album's worth of material, it shows that there's plenty to unravel as their musical refinements mature. Indeed, these four Londoners are far from the fashionistas that the visual medium portrays as.
Note: For reasons I don't understand, the US version will come out with two extra tracks (Traveller, Tak O Tak) which, instead of closing the album, are mixed in the shuffle. This review intends to critique the record as it was intended.
26 October, 2009 - 21:16 — Juan Edgardo Rodriguez