Music Reviews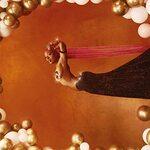 Sudan Archives Natural Brown Prom Queen
(Stones Throw)

Athena, the debut album by Brittany Denise Parks, announced an artist who dove into the wreck of her inner consciousness with a soulful, cosmic embrace. Going by the stage name Sudan Archives, Parks was the rare fully-formed artist combining her self-taught prowess as a violinist with inventive electronic beats. Her latest, Natural Brown Prom Queen, strikes like an abrupt disruption from Athena's more gossamer moments, embracing her autonomy even further while taking her R&B in wild new directions, both musically and lyrically.
Natural Brown Prom Queen finds strength in its nonlinearity, where Parks takes creative detours that mirror her stream-of-consciousness thoughts. Within the first 90 seconds of the album, Parks throws you a smorgasbord of ideas all at once, proving to a lover she's better than the rest over jazzy tones, menacing downbeats, and harp samples. Every flashing moment feels vital and connected to its overall concept, but more than anything else, it leaves one with a sense of intrigue and wanting more. Whereas other times, like on Loyal (EDD), she takes a mercurial approach to share her frustrations, letting someone point out her flaws over resplendent house music.
When not expressing sudden bouts of arrogant cynicism, Parks does tackle more poignant topics head-on with both distress and flourish. Opening with a throbbing beat, Selfish Soul melds ghostly, reverbed vocals with a celebratory tempo -- a curious marriage of Panda Bear and Ye -- where she revels in the pleasures of styling her hair: "Gotta prove them all wrong/I don't want no struggles/I don't want no fears." While on NBPQ (Topless), she fully embraces her sexuality while rebelling on established beauty constructs over frantic electro-hop: "Sometimes I think that if I as light-skinned/then I would get into all the parties." These biting observations, filled with a tapestry of intricate beat constructions, feel like listening to a fever dream that begs repeated listens.
There are a lot of genres to take in throughout the almost-hour-length NBPQ, but she holds them together by keeping things playful and lighthearted. What begins with a toughened industrial chug on Omg Britt turns into moody trap with delicate music toy plinks. Parks also gives in to her sexual urges, whether she describes a flirtatious exchange while the Japanese anime One Piece plays in the background on "Homesick (Gorgeous & Arrogant)" or wants a loved one to "Lick on my titty" over some of the thickest basslines in recent memory on Milk Me. The lyrical content doesn't leave much to the imagination, but still, it's effective considering her frequent use of monologue.
Anyone coming into the album expecting Parks to continue the more classical approach of Athena is in for a surprise, as NBPQ completely disregards any use of strings outside of the occasional accouterment. It's one of the many ways in which Parks exerts control, letting it known that Athena was the initial chapter of a multifaceted artist. Along with a numble of likeminded producers to help fulfill her vision, Parks comes across as an open book, delivering a lushly atmospheric portrayal of a woman who takes pleasure in living in the moment.
12 September, 2022 - 01:00 — Juan Edgardo Rodriguez