Music Reviews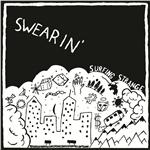 Swearin' Surfing Strange
(Wichita)

Swearin's self-titled album was one of my very favourite debut records of 2012: DIY pop-punk by way of 90s indie rock, and full of indelible melodies. On the face of it, it was extremely lo-fi, (my original download was full of static from the audio clipping), and they rarely wrote songs much more complex than a few powerchords – but the record was nonetheless so vivid that it will remind me of that year for a long time to come. Swearin' wrote emotionally complex songs and sung them kind of like kids having tantrums. They're still lovable, but they're pushing themselves to be a more mature band: Surfing Strange isn't as lo-fi or basic, but it's simply not as exciting or as memorable as that debut for a few crucial reasons.
The most significant is that they've cashed in the cathartic glee they exemplified on their self-titled debut in favour of a more restrained approach, less yelpy and teenage. It's not that I'm against bands growing up and moving on, it's just that it doesn't work out that well for Swearin', and somewhere along the way they've lost a lot of the things I loved most about them. They just have way more character when they're being scrappy and noisy rather than introspective, and it's those moments on Surfing Strange that I find most memorable. Unwanted Place and Young are tucked away towards the end of the record, but both are bouncy powerchord-driven pop-punk headbangers – Swearin' in their element.
It doesn't help that songwriting duties are split across three band members this time round. This is good in the sense that it allows the band to get a lot of mileage out of their garage band setup; Swearin' develop these songs as a band and the result is a record which doesn't sound homogenous but maintains a decent consistency. But it's harder to root for a band if they don't really have a frontperson. Allison Crutchfield (who seemed to be the leader on Swearin', but allows her bandmates more spotlight this time) is still the band's best lyricist, sharing with her twin sister (Katie Crutchfield of Waxahatchee) a knack for wry observation and verbose explication of feelings. Dust in the Gold Sacks is the finest track, coming across like a Guided By Voices classic right down to its crypto-stoner title and Crutchfield's climactic shout of "we are defective!" But later, she squanders the opportunity afforded by stripping back to a simple guitar part on Loretta's Flowers (Pavement influence right on her sleeve there) – "When you get older / You'll realise this wasn't love" she sings simply, never quite taking advantage of paring things back.
Co-frontperson and guitarist Kyle Gilbridge is a more dynamic performer – his songs have an endearing habit of moving quickly from murmured instrospection to his adolescent yowl, especially on Echo Locate and lead track Watered Down. His nasal vocals have more than a touch of Gordon Gano, or Rivers Cuomo at his most anguished. However, the couple of tracks by bassist Keith Spencer (Melanomia, Glare of the Sun) are weak, quiet and uncontroversial to the point of being sombre, somehow despite the adventurous transitions between fuzzy guitar riffs and piano lull of the latter.
It's interesting that I'm disappointed by Surfing Strange in the same way that I was disappointed by Waxahatchee's breakout album this year, Cerulean Salt. It's a familiar story to hear DIY bands frustratingly avoiding their past strengths once they secure some proper studio time; both records have a more "mature" sound than their lo-fi predecessors, but I find the songwriting largely forgettable. Still, the prolific back catalogue of both sisters (including their excellent bands together P.S. Eliot and Bad Banana) proves that you can expect a lot more from the Crutchfields in the future.
19 November, 2013 - 05:13 — Stephen Wragg