Music Reviews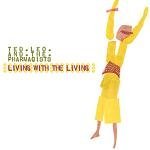 Ted Leo and the Pharmacists Living With The Living
(Touch And Go)
Buy it from Insound

Ted Leo isn't just an indie rock superstar; Ted Leo is an indie rock superhero. Touring constantly and relentlessly, Ted and his band of Pharmacists refuse to stop for anything but the occasional sick day or recording session. Although he's been around for ages, Ted refuses to sign to a major label, spurns the idea of radio edits and plays for only the most modestly sized audiences, often in college towns. He's a vegan. He's a liberal. He plays for kids. He's passionate about the issues. He's a ridiculously good singer and guitarist. Ted Leo can do no wrong. Ted Leo deserves a cape and spandex tights. But Ted Leo's new album isn't very good.
Okay, catch your breath. It's blasphemy, I know. But hear me out. There are a couple of things that we've come to expect from Ted Leo. Chief among these is his stalwart dedication to his influences, most notably - and noticeably - the Pogues, Stiff Little Fingers and Thin (some would say thinly veiled) Lizzy. We know that we're in for a heavy dose of Irish folk ballads, strong political messages and, above all, a pure and unpretentious form of rock'n'roll that almost everybody else has abandoned. None of this is missing from Living with the Living, but it's muted, it's unimaginative - dare I say - it's boring.
You've probably already heard a few of the cuts from Ted's new album. He's been playing Army Bound, Sons of Cain, and La Costa Brava at shows for more than a year, now. These are thoroughly enjoyable numbers, particularly Sons of Cain. As the album opener - well, technically it's preceded by a mélange of sound bytes called Fourth World War - it works well and sounds promising, with its drumbeat intro, catchy guitar riff and lively rhythm accented by the occasional piano roll. Army Bound has an equally catchy riff, but the lyrics are obvious and disappointing. "In every cradle there's a grave, now/In every owner there's a slave, now": the song is just rife with these seemingly elucidating statements, which quickly become tiresome. Sadly, these are the catchiest and arguably most interesting tracks on the entire album (catchy and interesting often work in unison for Ted, as paradoxical as that may be).
As for the others, it's difficult to point to any real standouts. Colleen is a terribly catchy, yet very simple, ballad-like love song. Bomb.Repeat.Bomb is the obligatory punk rock cut, harder and louder and more tirade than song. My abhorrence of reggae makes me a poor judge of The Unwanted Things, but I will say that Ted's voice is particularly gorgeous here. C.I.A. is notable for its politically charged lyrics - "Oh C.I.A./only you know what you've done" - but musically, it's a repetitive see-saw of both vocals and guitars. My own favourite is The World Stops Turning, if only for how predictably successful it will be with live audiences. It's a short bit of punk with ska guitars, and the urge to jump around like teenagers is completely undeniable. It's also the only song on the album, perhaps along with the slower and moodier The Toro and the Toreador, that truly showcases Ted's amazing guitar-playing abilities, and thus reminds me of older, more satisfying albums, especially Hearts of Oak.
What I've always loved so much about Ted Leo + the Pharmacists albums is that I appreciate them more with each listen, finding more instrumental depth and richer humour every time. But after about ten spins of Living with the Living, I'm bored. The songs are flat and unoriginal rock. Ted's voice and vocal range is exemplary, but it's the only real star on this record. Nothing sticks the way it should. Perhaps it's a bigger blow to my system because I've come to expect such greatness from Ted Leo. Still, I have no doubt that the comparable simplicity of this new album will make it wider-reaching and generally more accessible. If nothing else, these tracks are more radio-ready than anything he has put out before. There are few artists truly deserving of superstardom, and I do wish it on Ted Leo - but even if he finally caves in to the pressure and explodes into the Top 40, I'll keep my fingers crossed that he won't tread any further into the abyss of generic alterna-pop.
14 March, 2007 - 20:06 — Gabbie Nirenburg