Music Reviews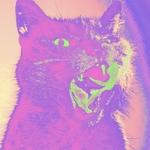 Teenanger Good Time
(Telephone Explosion Records)

Thirteen years is quite the accomplishment for Toronto scenesters Teenanger. On their sixth outing, the four-piece take their jagged, angular punk into more danceable territory without discarding their delightfully scrappy beginnings. It's a testament to their perseverance that they make it seem like such a natural transition, where the band plays hooky, spacious arrangements while applying just the right amount of tension.
There's an impressive amount of variety throughout these eight tracks, though Teenanger manages to keep things lean and flavorful. As far as album openers go, Beige is punchy and taut. Over a motorik groove, vocalist Chris Swimmings wishes to escape a bland and unadventurous existence with his compelling sing-speak (which, in this particular track, comes across as if Sonic Youth's Thurston Moore was singing The Ramones' We're a Happy Family.) And it works. Whereas on Pleassure, they're jovial as they seek distraction—this time, it's bassist/singer Melissa Ball who parties like she's at an Athens, Georgia house party in 1979 over campy synths and bright melodies.
From Romance for Rent to Straight to Computer, Teenanger articulates their technological anxieties over some of their rangier cuts yet (the latter, especially, takes its time to build into a genuinely memorable chorus). On the tuneful title track, the band goes even further into new wave with a peculiar balance of sarcasm and sincerity—where Ball and Swimmings savor those precious moments of pure abandon rather than dreading the daily grind. The songs are lengthier, yet no less involved and dynamic, as the band proves that a little more songwriting sophistication suits them.
In Good Time, Teenanger remains true to their playful punk grit while adding some nuance into their arrangements. Even if it's sometimes evident that they're searching for their new direction, there's no shortage of personality and charm tucked within the album's tonal shifts. And, thankfully, they're doing so by injecting some fun—keeping a healthy distance from the brooding, confrontational post-punk that's dime-a-dozen these days.
5 October, 2020 - 05:00 — Juan Edgardo Rodriguez