Music Reviews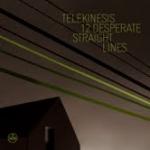 Telekinesis 12 Desperate Straight Lines
(Morr Music)

Within a brief spat of radio interference that linked the second and third tracks of Telekinesis' sophomore release, something interesting happened. No sooner had Please Ask For Help rounded out its New Order thrust of treated guitar and bass when 50 Ways launched into the power-chords and glorious distortion that defined Weezer's Blue Album. From sleek to stomp in a blink, Telekinesis (Michael Benjamin Lerner) isn't just testing his own immaculate sense of sequencing; he's jumping decades, taking us from the pop heights of one retro-cool era to another with his compact songwriting as the lead guide.
Suggestive though it may be, the familiar angles on 12 Desperate Straight Lines avoid labeling Lerner as a chameleon for precisely that law of compression. Apologies: if Telekinesis' Myspace page has any sway, Lerner prefers the term "minimalist". It's a tempting descriptor when the vast majority of this sophomore's songs pulse on a skeletal palette of no-bullshit rock hardware: drum-kit, a little bass, and a few guitars. Still, a cheeky studio veneer is never far off. Enter ace-in-sleeve Chris Walla, who counters the raw immediacy of songs like Country Lane and Car Crash with simple electronic effects that add considerable lifespan to Lerner's quick takes. Once Walla's touch has been recognized, it's hard not to shake the sonic similarities between 12 Desperate Straight Lines and Narrow Stairs (on Patterns) or, say, the last two Tegan and Sara records (with Dirty Thing, Fever Chill). Walla has more than a few hit records under his producer-hat and this little scorcher should bejewel him another.
So, okay, Telekinesis' "minimalist" tag holds just as flimsily as it would for any of those other Walla endeavors but Lerner's direct songwriting minces all of these college-rock influences into a surprisingly versatile record. There's very little lyrical wallowing permitted here, as even the revisited theme of lovers left in different cities is relayed through our protagonist's road-weary, matter-of-fact shrug. And in an indie-rock landscape where so many bands climb to eminence on the shoulders of pseudo-academic attention-seeking, a shrug and a good pulse can go a long way.
16 February, 2011 - 07:30 — Ryan Pratt