Music Reviews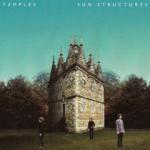 Temples Sun Structures
(Heavenly Recordings / Fat Possum)
Buy it from Insound

Opinions are usually louder when there are fewer of them. And when trying to piece together the art of songcraft, the first thing that comes to mind is how it compares to similar offerings. Equally championed and maligned is the deep-rooted history of psychedelic music, which will forever be associated with a feeling of reminiscence. No other sound gets an instant impression of archeological curiosity, which makes it especially trying to achieve in a modern format without describing it in an outmoded context. The odds are vastly in favor for Temples to assume the mantle of "psychedelic curators", solely for making a damn convincing case for continuing the sonic intricacies of psych-pop reintroduced by Tame Impala. It's especially notable when the trend hasn't caught on as quickly, which proves the technical finesse involved to polish it with a vintage luster.
On the one hand, the Kettering act aren't the slightest shy about embracing its visual aesthetic - there's the prominent, Marc Bolan-like corkscrew curls of singer/guitarist James Edgar Bagshaw, who's perfected the art of playing the mystic frontman by looking bored as he plays complex chords progressions with seamless fluidity. Add to that the effusive endorsement they've received from the likes of Noel Gallagher, Johnny Marr, and Robert Wyatt, who've articulated a firm belief that what they're achieving should mean something outside of the confines of the indie realm. All they need to complete the portfolio is an acid-tinged, Martin Sharp-inspired snapshot of their enlarged, floating faces set against a technicolor backdrop of swirling, lava lamp blots.
There's an understandably high degree of hyperbole surrounding their full-length debut Sun Structures, an auric energy enfolding their bodies; or as the music press calls it: hype. The perception is justifiable from the moment the exquisite Colours to Life opens, featuring a ringing guitar crescendo that instantly lures you in as its quivering drum patterns move along with note-perfect precision. Bagshaw also doesn't shy away from exploring his far-out thematic tendencies, going about metaphysical rhyme schemes ("spectrums defy us/ left to remind us") that are borderline risible. A Question Isn't Answered begins with the kind of wordplay that arises from either an unconscious flow of ideas or cheap, senseless logic ["an answer has a meaning when the meaning has a truth"], and it's the one track that incorporates a tribal chant over a stomping motorik groove; its homage to Beatles psychedelica just spreads through with an astringent scent. Seeing as the punchier, modern production resonates with a pellucid touch, it's those florid soundscapes that provide the songs that fleeting, misty air.
Sun Structures is gently ornamented with all sorts of psychotropic imagery, so it's easy to dismiss that there's also a deeply felt classic hard rock edge etched throughout. The rippling bass lines and bracing guitar overdubs of the title track are deeply indebted to the noisy assaults of Blue Cheer, and the Middle Eastern-inspired orchestration and dirge drones of Sand Dance are slowed down to a steadier dissonance. Which proves that this is an album brimming with ideas, although the other main bulk of the songwriting concentrates on a disarray of contemporized pop constructs that make it sound uneven. There's the amiable bounce of The Golden Throne, which is treated with a soulful strut akin to a Mark Ronson production; it's not poorly written in its own right, but it comes off as an afterthought to juice up a flavorful single with a higher demographic reach. And there's no way of distinguishing the influence of Tame Impala in Test of Time, which mimics the lysergic majesty of Lonerism with a tremulous wash of glistening sonic layers.
It takes a good minute to distinguish Temples over their current adversarial peers; granted, they're caught in a trap of mostly their own doing. Not to discredit their faculty as savvy melodicists, since they can pretty much synthesize any of their sundry influences into a perfectly immaculate set of crisp, reverbed ambiance. Its rich, opulent tones encompass a range of colorful possibilities, ever so slightly held back with a lack in tone that impedes it from really popping out. They just haven't quite found the necessary depth to separate their clinical precision, an incredible feat considering Bagshaw concocted most of Sun Structures with bassist Tom Warmsley in his own bedroom. That widescreen ambition can be truly found in their carefully stitched together patchwork of sublime vibes; it's unfortunate that those hypnotic swirls meld together with a vanilla finish.
6 February, 2014 - 04:45 — Juan Edgardo Rodriguez