Music Reviews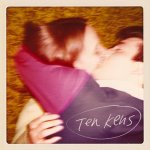 Ten Kens Ten Kens
(FatCat Records)

Twenty years ago, a little band known simply as The Pixies put out an album entitled, Surfer Rosa. Surfer Rosa, as history would tell, played precursor to what would inevitably become an awakening of sorts, a movement that would bring "alternative" music to the ears of many. Surfer Rosa would also inspire another little album: Nevermind by Nirvana.

As we hurtle at breakneck speeds toward the end of our no-longer-new millennial decade, Ten Kens, Canadian alt-rock quartet, bring us full circle with their self-titled debut album and pick up where Surfer Rosa left off, constructing groove-heavy alterna-pop tunes that owe more to artistic merit and song craft than flavor-of-the-month bandwagon schmoozing. They even keep those Steve Albini-flavored snare beats so as to rattle your skull.

As the album plays, it's evident that the quartet, (guitarist, Dean Tzenos, singer, Dan Workman, bassist, Lee Stringle, and drummer, Ryan Roantree), have gained more from early-nineties slacker flannel than mid-millennia hipster denim, though I wouldn't call them "throwbacks." Just hearing the first loud and crunchy guitar notes cut through opening track, Bearfight, it's refreshingly evident that a categorically indie rock group is offering more than just rehashed 80s post-punk or 60s psych and, for all we know, may be giving us a hopeful glimpse of what's to come.

Ten Kens possess what The Pixies had going for them: the ability to appeal to the more gentler side of things while fusing pop music with some much-needed volume. Ten Kens are hook-savvy, brilliantly subtle at change-ups and they really capture your attention without making your ears bleed. Downcome Home, with its lonely and melancholy banjo-stringed driven melody, had me from the first few notes. Failing to disappoint as the band plays on, Refined, with its eerie organ weaving through sporadic guitar strums and tom-thumping drumline, throws itself into a desperate garage jam for its climax. Y'All Come Back Now, hauntingly beautiful and unforgettable, couples Stringle's funk-based and pronounced bassline under Tzenos' ghostly and whaling guitar.

From there, the band goes into simplified garage (Spanish Fly), Kinks-ish jollity (Prodigal Sum), and maddened organ-grinder noise jams (The Whore Of Revelation), adding range to their sound while keeping their identity intact. The album ends with two tracks, Your Kids Will Know, and I Really Hope You Get To Retire, both of which come across as updated Nirvana tracks (Your Kids Will Know is like a better-performed version of If You Must) that emanate that same Cobain degree of angst and isolation.

As cultural cycles persist in coming back around, Ten Kens are the first hint at a return to a nineties/contemporary rockdom. Despite the fact that they will undoubtedly be lumped in with other bands that persist in regurgitating Joy Division, I think it's safe to say that a new and budding nostalgia may be on the horizon. For now, Ten Kens come at us with something not so new, but definitely welcome.
17 September, 2008 - 08:29 — Sean Caldwell