Music Reviews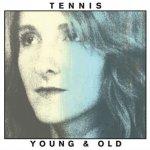 Tennis Young & Old
(Fat Possum)
Buy it from Insound

When Tennis gave us Cape Dory early last year it was the product of Alaina Moore and husband-cum-bandmate Patrick Riley's seven-month sailing expedition along the Eastern Atlantic Seaboard. From the initial plea for excitement on Take Me Somewhere, their physical and emotional voyage was documented through a carefully constructed fusion of narrative and style. Wrought with aural metaphor, you could feel the waves lap around the toes of the tale's ingénue as Moore's coquettish coos weaved through the ebb and flow of waltzing percussion and surf pop guitar lines. When the ocean spray of Waterbirds' crashing cymbals finally receded you genuinely felt as though you had been on a journey.
Approaching a sophomore record after such a coherent debut is a challenge to say the least. Born out of a once-in-a-lifetime adventure, inspiration was a commodity Tennis had in spades when writing Cape Dory and, thematically, much of the album's story would have written itself. Finding such grand stimulation second time round was therefore highly unlikely. Sonically, the album was also rooted firmly in the past. Dripping in reverb, its sugary doo-wop harmonies and Telecaster jangle meant that it was unique but highly referential. And so while the difficult second album is a phenomenon most bands experience, for Tennis the pressure to evolve is all the more acute.
Just over a year on, then, we have Young & Old and Tennis have bolstered their ranks by drafting in Patrick Carney of the Black Keys on production. Its fast-paced, layered approach bears the fingerprints of Danger Mouse, injecting significant additional horse power in to the Tennis engine. Opener It All Feels The Same, for example, starts out in familiarly breezy territory for the duo but by the end it has morphed in to garage rock writ large; Moore working harder than ever to be heard over Riley's thrashing chords and a Hammond sound louder than anything let loose on its predecessor.
The distorted keyboard riffs that drive Origins and Never to Part could have been lifted straight from El Camino, while Traveling and High Road are driven relentlessly forward with percussive muscle that was hinted at but never quite realised on Cape Dory. There is, in addition, a wider range of sonic variation in Tennis's armoury this time around as Carney plays with volume, texture and tracking to ensure that songs build to better effect.
The simple beauty of the songwriting is retained, however, and Moore's arresting melodies twist and turn with the same splendour, making Origins, My Better Self and Petition shining specimens of modern pop. Riley's surf guitars still underpin proceedings but this time they come as part of a larger, better-fleshed out whole.
Lyrically, Young & Old touches on familiar territory. Indeed, we find Moore preoccupied with the same strong sense of place that pervaded Cape Dory on the album's first song. A consciousness of here and a yearning to be somewhere else pops up at every turn. The quaint romance of last year is also present. Never to Part's archaic tenderness, for example, verbalises the innocence which is hinted at in Tennis's throwback sound: "Do not furrow that perfect brow / Chaste lips never to part 'til now".
Ostensibly cheery, however, dissatisfaction lurks beneath. While High Road reprises the wanderlust of Cape Dory, we now find Moore in a state of listless reflection upon what's been and gone: "But now the dreams have all been dreamt / All of the money has now been spent … a life of middling at best," and climaxing with the frustratingly hopeless couplet, "Paradise is all around / Happiness is never found." This desire for movement is hinted at in the song titles; Traveling, High Road, Dreaming and Take Me To Heaven all point to an underlying discontent, while My Better Self sees Moore turn inwards as she explores a fissure between two lovers, meditating upon the innate shortcomings of human communication: "If I don't use words then each sound goes unheard / Utterly senseless without nouns and verbs."
All things considered, Young & Old is a more mature release which demonstrates that Tennis possess both the wisdom and guile to evolve. Indeed, when the beachcomber guitar and organ of Robin fades it serves as a timely reminder that the duo could have easily fallen into the trap of self-parody. It doesn't feel as much of a whole as its predecessor but then it never could have. Instead we have a collection of snapshots of love, loss and inertia which replace the naive magic of Cape Dory with a subtle anxiety and imbue the album with honesty without forgoing charm.
16 February, 2012 - 08:51 — David Zammitt