Music Reviews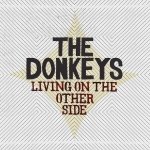 The Donkeys Living On The Other Side
(Dead Oceans)
Buy it from Insound

I didn't get off to the best of starts with The Donkeys' Living on the Other Side. A laid-back album of gentle West Coast pop songs, it had the gross misfortune of earning its first play on a dreary autumnal evening in Sheffield. I remember making a gruff remark about the derivative nature of the music and hitting eject just as Gone Gone Gone's first verse lazily meandered into the chorus. It would be a full three months before I gave Living on the Other Side another chance.
Of course, I can't really blame the Sheffield weather. It's snowing today; my car is caked in ice and the apartment is freezing, but for all their California-isms, The Donkeys sound pretty fantastic right now.
With the exception of few mid-tempo numbers (Walk Through a Cloud, Bye Bye Baby), Living on the Other Side's tempo is chiefly reminiscent of a lazy afternoon stroll. Listening to Gone Gone Gone I can understand why I brushed the album off prematurely and, crucially, why I was wrong to do so. It sounds effortless, almost shambolically so, and its simplistic guitar licks sound like the sort of thing a studious beginner might come up with. But there's a certain charm to Gone Gone Gone and it becomes clearer as you immerse yourself in the rest of the record.
Walk Through a Cloud, with its shuffling drum intro and melancholy vocal harmonies is a more immediately engaging affair, albeit it one made up of the same basic ingredients. It's only on Dolphin Center, which aims for epic in the most lethargic manner possible, that the surprising scope of the album is unveiled. There's also a particularly great pay-off moment at 4:55 when Jessie Gulati's understated guitar solo eases into the final chorus. If this moment of genius leaves you cold then the Donkeys probably aren't the band for you.
There are highlights elsewhere, too. The bluesy Downtown Jenny shuffles along with a touch more menace than its predecessors, sounding like a nod to the East Coast; with some artier lyrics, it could almost be a countrified track from The Velvet Underground. Excelsior Lady,which is built around a lively bassline, subtle organ work, and bluesy guitars,also delivers something slightly different, rounding off the album in style.
While Living on the Other Side isn't a particular complex record, I do think it's one that requires a couple of listens to fully appreciate. There's an unassuming depth to many of these tracks that a hasty listener could initially dismiss as easy-listening fluff. Living on the Other Side is so much more than that, though; it has to be one of the stronger overlooked records of 2008.
3 February, 2009 - 11:06 — David Coleman