Music Reviews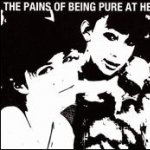 The Pains of Being Pure at Heart The Pains of Being Pure at Heart
(Slumberland)

First off, this is one of the coolest names to come around in quite some time. While most band names tend to be derivative one-offs, overwrought inside jokes or general afterthoughts, the name of this Brooklyn quartet instantly captivates. But try not to let the super-sensitive, charming name alone win you over. The Pains of Being Pure at Heart's debut album withholds romantic chamber pop that would be perfect even if their name weren't.
An amalgam of all of the things that were good about late 80's and early 90's college radio are gathered up and siphoned back here with rediscovered clarity. The distant, but angelic vocals of their front man, Kip Berman are sonically akin to My Bloody Valentine, but with upbeat melodies that rise above the dirge. There are slumbery, hazy cues from Field Mice and The Jesus and Mary Chain with the persistence of more obvious influences like The Cure or The Church. For detractors the word is derivative, for admirers the word is inspired. Pains rise above their name-dropping prototype peers on the plains of authenticity and heartfelt melancholia. Most importantly, at the heartbeat of all of this hoopla, when stripped of all of the fuzz, comparisons and reverb these are plainly blissful pop songs.
The album opener, Contender is a near percussion-less vacuum of fuzz that eases into the record on a more somber level than the assaults that follow. Come Saturday and Young Adult Friction sport a harder rocking shell, but still bring about the creamy hooks and occasional humor that the band extracts so well. It's a tight combination of washed-out over-trebly guitars and keyboard synths as back-up vocalist Peggy Wang harmonizes from a distance, using the old just-enough-to-make-'em-long-for-more trick. Shoulda seen that one coming.
Mostly centering on youth and heartache (see This Love is Fucking Right!), the sentiment fits the crime. They feel like a young band should, with equal parts naivety and energy. A Teenager in Love is sure to satisfy anyone's sweet tooth for goopy hooks. On Everything with You the band displays it's excellence in this genre. They capture dreamy atmospherics while maintaining some of the catchy rock clichés we all love: The momentum-building extended drum roll to a momentary break, followed by a life-affirming solo, and back around to the irresistible chorus.
It feels like we may be on the crest of a new-wave, noise-pop re-birth that's been looming for a while now. And with groups like Vivian Girls, Times New Viking, and Crystal Stilts, the revival is most assuredly welcome. The Pains of Being Pure at Heart can easily be at the forefront of this scene because, simply put, they have the best hooks.
10 March, 2009 - 20:33 — Brett Oronzio