Music Reviews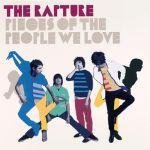 The Rapture Pieces of the People We Love
(Mercury)
Buy it from Insound

Ah. The Second Album. Must remember to preface it with "difficult", "problematic", "awkward", what else now... phrases like "birth pangs", "gestation", and other partial metaphors. The Rapture's return has that feel about it. Of course I'm ignoring the small matter of Mirrors but recordings with a single-figure number of tracks sit awkwardly in my collection. Either way, after a monster of an album, Echoes, and the epoch-making House of Jealous Lovers, anything would be problematic.
Really the Rapture's problems were not their own: general malaise over electro/dance, suspicions that they were simply a front for D.F.A's world domination schemes, concerns about good-looking chaps in bands (cf. The Strokes). As the year ends though, all this is rather by the by: Pieces is a fantastic, bold, swaggering poseur of an album, music by people who love music and aren't afraid to get crazy, and a deserved entry in several best of the year polls.
But despite this, a certain snottiness appears throughout: Whoo! Alright Yeah... Uh Huh features a lengthy lyrical gripe about the behaviour of crowds at gigs; First Gear bristles with attitude, and not a nice attitude at that. Perhaps more important, there's defiance in the musical, ahem, borrowings that go on: Down for so long is but a whisker away from simply being a Happy Mondays track; Calling Me is Ian Curtis an octave up; and it's hard not to wonder whether The Sound perhaps fell out of the Chemical Brothers' demo bag.
Please don't misunderstand: none of these are complaints. One of today's liveliest bands sifting through the best bits of a British student's record collection, then hammering it to the boards with precision and verve, will do it for this reviewer any day. Pieces suggests that, hype aside, The Rapture will be making us groove with delight for some years now.
29 December, 2006 - 13:25 — Ben Bollig