Music Reviews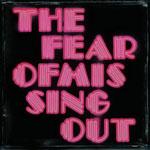 thenewno2 thefearofmissingout
(Hot Records)
Buy it from Insound

Since its inception, thenewno2 has felt like a band in search of an identity. Their debut album, You Are Here, was an insular indie rock affair, full of catchy riffs and atmospheric touches. Last year's EP002 was all over the map, ranging from the rap-infused Mr. President to the melancholy buildup of Live A Lie. Now, with the release of thefearofmissingout, the band has latched on to an adventurous mood that pushes their music into new territory. Every song on the tracklist is fluid, fresh, and endued with a sense of fun.
Want some proof? Look no further than the opening song, Station. It kicks off with an effects-laden, piping vocal speaking over a steady set of piano chords. Oli Hecks' drums hyperactively jump around, like that YouTube cat trying to catch a laser light. The chorus propels onto the scene with a fuzzed-out guitar as Dhani Harrison cries out "I'm changing so fast you can't keep up". As if to add a punctuation mark on that statement, an audio sample from Time Bandits leads us back into the electronic verse. Throw in a wall-shaking solo where it's impossible to distinguish guitar from electronics and you have a thrilling start to a record.
Don't think that the group only has one trick up their sleeves. The album is full of odd little moments that tickle your brain in all the right places. Timezone centers around a high-pitched ukulele part that weaves in between every line sung. I Won't Go moves from a sludgy synth to one of the most radiant chorus you'll hear all year, with both the guitar notes and Harrison's vocals resonating into the sky. The instrumental Looking Beyond gradually grows out of a trip-hop rhythm, crescendoing into a distorted wall of noise.
The only song where the band's experimental side fails is on The Wait Around, featuring RZA. While the band's last collaboration with a rapper worked out (on last year's Mr. President), it falls flat here because it feels more like an RZA song with a guest sample from thenewno2. A short rap segment could have worked among all the other samples and segments used. But given that more than half of a five minute song goes to RZA, it has trouble fitting comfortably with the rest of the album.
All these cool moments thankfully don't come at the cost of songwriting. No matter how off-kilter an effect may be, it never overwhelms the melody. This holds especially true when Icelandic singer Thorunn Antonia joins in. Hanging On, the first song resulting from this collaboration is one of the strongest pieces on the album and in theenewno2's short discography. Both Harrison's voice and his guitar licks in the verses are laid-back, but not lazy. It's a slow ride to a passionate chorus where Antonia echoes Harrison's upper range. They sound like two lovers singing the same thoughts aloud, but not to each other. Closing song The Number starts off only with band founders Harrison and Hecks, but it gradually balloons over its six minutes until the rest of the band is jamming along.
As the song and album closes, Antonia plays a coy call-and-response game with Harrison about how "the number don't leave you alone". If it's a self-reference, we can only hope the band means what he says. Thefearofmissingout is the sound of thenewno2 finding both its identity and the confidence to stretch out of any boxes built around them. After listening, you'll do two things. Start the record over and excitedly think about what they'll do next.
22 August, 2012 - 11:49 — Joe Marvilli