Music Reviews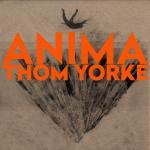 Thom Yorke ANIMA
(XL)

It shouldn't come as much of a surprise that ANIMA is the product of an extended period of anxiety. It's something Thom Yorke has long struggled with and written about throughout much of his career. His third proper studio album finds revisiting other familiar themes as well: the stresses of navigating through modern life, mistrust of technology, and the uncertainty of what the future holds in a world that feels as if it's coming closer to spinning off its own axis. The experience of listening to ANIMA in a single take can be likened to immersing yourself in an especially eerie but strangely comforting dystopian soundtrack.
Throughout Last I Heard (He Was Circling The Drain) Yorke can be heard repeating, "I woke up with a feeling that I just could not take," on a near-continuous loop over stuttering beats and somber strings that build a growing sense of unease that never really resolves itself; he confronts a waking horror "who are these people" on Not The News, and admits "I can't make the big connection" on the dubbed-out Impossible Knots. Yorke has had a famously difficult relationship with technology, a subject he pretty much devoted an entire Radiohead album to and returns to on The Axe: "Goddamned machinery, why don't you speak to me?/One day I am gonna take an axe to you" he mutters, "the pitter patter/what does it matter/where is the love that you promised me," taking issue with our reliance of cultivating an empty artificial life from behind a screen.
Yorke has been tinkering with electronic music for some two decades now, both with Radiohead and on his outside projects, and though by now his fusing of breakbeats, left of center techno and elements of jazz are earmarks of his sound, you could argue that on ANIMA is where everything takes a significant creative leap forward. It's easily the most fully realized collection of songs of his solo catalog.
The music is sparse, with songs often being built from little more than some patches—a lone kick drum, and Yorke's distinct voice. Working with longtime producer Nigel Godrich trading samples and ideas back and forth through laptops, it's impressive just how rich and detailed these songs are: The frantic claps and stuttering beats of Traffic create a paranoid atmosphere that could easily soundtrack a late-night subway trip. Not The News employs blipping synths and bursts of strings alongside deep bass and the nervous pattering of a kick drum, and the two-step groove of Twist gradually transitions into a grandiose conclusion where a somber but gorgeous piano refrain and sweeping strings bring it to an appropriately compelling conclusion.
It's one of those few moments of beauty that sets itself apart from its mostly bleak surroundings. Nothing else here remotely compares to the devastating Dawn Chorus, a song long held in high regard by Radiohead fans that is finally seeing a proper release. Revolving around themes of love, loss, and regret, its placement (right in the middle of the album) is frankly jarring and it could just about rival True Love Waits as one of the most painfully gorgeous songs Yorke has ever written.
Having been given an elaborate rollout and an accompanying short film of the same name directed by Paul Thomas Anderson featuring exceptionally freakish choreography, this is easily the most ambitious projects Yorke has taken up to date. Which is saying a lot about an artist that has made a career out of creating ambitious and often challenging music that has always been difficult to categorize. ANIMA is also one of his consistently best albums and the one that perfectly captures the restless creative spirit that continues to push Yorke beyond his comfort zones at a time in his career where other artists would likely be happily settling into theirs.
18 July, 2019 - 07:39 — Jeremy Monroe