Music Reviews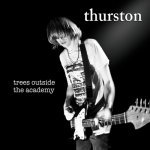 Thurston Moore Trees Outside the Academy
(Ecstatic Peace)
Buy it from Insound

Sonic Youth head honcho Thurston Moore delivers an eclectic and engaging listen on Trees Outside the Academy. This isn't SY Lite or Psychic Hearts Unplugged, although Trees could serve as the quintessential high-ride soundtrack while cruising the sun-drenched boonies in search of fresh air and fall foliage. Nor is Trees one of Moore's artier-than-thou, uber-obscure noisefest side projects. Of course there's plenty of cryptic poetry and shards of Marshall-humping feedback (the SY modus operandi), but Moore's acoustic strumming alongside twinkling, often eerie piano and violin lend more than just plugging holes pierced by skuzzy static.
The trademark sound of Steve Shelley's drumming as well as the searing score provided by Amherst neighbor J Mascis throughout Trees results in a reassuringly rocking disc. One can only imagine the oafish Mascis sauntering upstairs to his Bisqueteen Studio, only to plug in and scorch a track on one take, then mosey on downstairs, eat some cereal and await another further instruction from fellow indie rock architect Moore. His presence is felt from the opener Frozen Gtr, as Mascis coolly obliterates the final minute of the track. The violin on The Shape is in a Trance more than complements another stinging solo; here it locks onto Steve Shelly's drum kit and coasts beautifully.
Halfway through Silver>Blue Moore's nimble picking resembles a skeleton layout for Stones, the epic centerpiece on Sonic Nurse. There's a few instrumental cuts sprinkled in; American Coffin sounds like electric hair clippers molesting Thurston's rig, then abruptly detours to a three-minute piano solo, while the clenched chords and violin on Off Work walk into a brief tornado of fuzz then reappear unscathed to finish the job. The six-minute title track (the longest on the album) could've easily found its way onto the next Sonic Youth full-length; coasting and rumbling along in typical SY fashion, that is until Mascis slams on the brakes halfway through and serves up a slo-mo sludgefeast that culminates into a meaty crescendo. And the 30-second fuzzbuster Free Noise Among Friends sounds like his noise-monger Rhode Island pals Lightning Bolt were hiding under the stairs.
Moore's frenetic acoustic strumming and playful banter gives way to another succinct Mascis solo on the short and sweet Wonderful Witches, and the hushed vocals on Fri/End could be the best song Stephen Malkmus has yet to write. Never Light is a late-night campfire piece and about as soothing and pretty a song Thurston Moore has ever been a part of. Trees Outside the Academy sparkles with an eclectic (yet accessible) sound that has my early vote for Album of the Year.
25 October, 2007 - 16:35 — Chris Conti