Music Reviews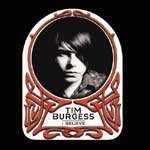 Tim Burgess I Believe
(Play It Again Sam Recordings)
Buy it from Insound

Far removed from his Charlatan team mates out in sunny California, it was almost inevitable that Tim Burgess would get round to doing his own thing and record a solo album. And while this by no means signals the end for the last survivors of the class of '90, it can't signal good news for Charlatan fans.
For years Burgess has went on about his admiration for Gram Parsons and sure enough on the front of I Believe there he is, looking like the lost Flying Burrito Brother. First song and single I Believe In The Spirit also has a strong early 70's west coast vibe - the falsetto first heard on Love Is The Key emerges again alongside easy saxophone in a song that is ostentatiously a love song to his new home ("I believe in West Coast... I believe in California soul") and while it's a good enough song, it's also unfortunately the best thing to be found here by some way.
To help him knock together this album, Burgess has recruited a person known as Linus, a name which may well be familiar to fans of mainstream US hip-hop (given he's worked with Puff Daddy and Lil' Kim). Linus co-writes all but two of the 11 songs as well as producing - though his production is at times so clinical and clean you wonder if you're not listening to a Matchbox 20 album. I Believe is clearly an attempt to break Burgess in the States as songs like Be My Baby have that 'safe' quality that has made Coldplay international superstars.
Sadder still, the songwriting talent that kept the Charlatans afloat during their darker days has seemingly deserted Burgess. At times it's just straightforward embarrassing - note Held In Straps: "You're just a piece of trash / and if I had a gun / I'd shoot you up the ass". You'd expect it from some 18 year old manufactured pop star, but not a man who's spent 13 years fronting one of the most regarded bands to come from these isles - but still many of the songs here would appear to have been written by a generic team looking to knock together a new hit for Robbie Williams (Oh My Carazon and Say Yes being two of the worst culprits here).
Undoubtedly Burgess himself sees this album as a tribute to many of his influences and heroes, most of whom are listed in the sleeve, but it may well leave many of his audience praying that he catches a quick flight back to England soon to work with those with whom he works best. I Believe is a great disappointment of an album made all the more of a shame that it was made by a man with no little talent.
21 September, 2003 - 23:00 — Peter Mattinson