Music Reviews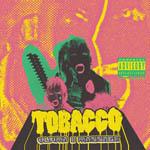 Tobacco Ultima II Massage
(Ghostly)

An indecipherable and droid'd rasp and a clangor of splash cymbals drive home a breathing synthesizer chord as invigorating as it is unsettling. Streaker, the second of three singles pulled from Tobacco's third solo release, Ultima II Massage, was kind enough to be fragmented and cool, a grand combination of flaws and crudity with an analog fetish intact. Muddy circuits: alive, but barely. I could imagine Streaker would sound right at home in a room full of partygoers all struggling through a fit of overdose, their last moments of consciousness plagued by physical dysfunction and involuntary bouts of violent spasm. A club staple to be sure.
While the fascination with electro-antiquity perpetuated by his band Black Moth Super Rainbow remains a key device to Tobacco's musical persona, every beat and key joyfully secondhand, he seeks to texturize and, thusly, create something corrupt. And though I'm still unsure that sounding purposefully scuffed means you need to include the clicking of a tape deck's STOP button between tracks, this oft-queasy collection of acid baked electronics challenges the PRESS PLAY stigma attached to what's come to be known as EDM culture. Tracks like Good Complexion and the imperfectly sleek Video Warning Attempts both demonstrate Tobacco as a pop sensible maestro and an administer of sonic perversion. Eruption, another single culled from Ultima II Massage, is the album's most dance-friendly offering, accessibly rhythmic and vocally melodic: "It's a nice fuckin' day and I'm feelin' fuckin' good/Eruption/Eruption…". There are also directives like "lick that popsicle" and "twist it like a pigtail," which could easily be read into to.
While few tracks rise to the level of aggression promised by its introduction, Ultima II Massage contains enough wild ideas to maintain an engaging level of oddity. That's not to say there aren't any other moments of intensity, (the cyberpunk rush of Lipstick Destroyer and buzz-tone persistence of Dipsmack both certainly qualify), but Tobacco's fusion of alt-folk and dance (Self Tanner), break beats and Tron'isms (Blow Your Heart) and hip-hop stride (Face Breakout) provide more for the ears in terms of what he's pursuing musically. Beast Sting's rough edges are dressed up with pleasant synthesizer melodies, contrasting with the aural infestation that announces the very broken Omen Classic.
After multiple listens, I got the impression that the album had been chopped into sections: first with anti-dance numbers that revel in pop mischief, second with an intriguing block of sonic experiments and genre-blending, and then finally with a concentration of composed, easier-to swallow selections to close the album out. Pool City, McKnight Road, a standout amongst the bunch, plays with beat transitions and boasts some of the album's better synthesizer phrasing. Having said that, there is also some glorious tonality at play with Father Sister Berzerker and its preceding minute or so interlude, Spitlord. The Touch From Within reduces its stride while swells of ethereal sound adorn its mostly minimal construct, signing off in a calm, though appropriately damaged, fashion.
27 May, 2014 - 04:37 — Sean Caldwell