Music Reviews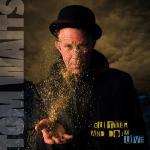 Tom Waits Glitter and Doom Live
(ANTI-)
Buy it from Insound

Tom Waits may be the only musician on the planet who can afford to be as weird as he is without becoming a parody of himself. Even a parody of Waits would be fresher than most music today – in fact, I'm surprised we haven't really seen one. Perhaps it is too intimidating a task.
Anyway, Waits is as weird as ever on Glitter and Doom, a live album based on his typically unusual tour in 2008 that eluded cities like New York, Chicago and San Francisco in favor of El Paso, Tulsa and Mobile, Alabama (???). The album is a collective of performances on the tour, mostly from the European stops, and proves that the music of this character chameleon is just as surreal and bizarrely seductive live as it is on record.
For starters, Waits has found the perfect counterweight for his cigarettes-and-razor blades voice – his backing band, from the snaky harmonica to the subterranean xylophone, perfectly replicates the chemical imbalance of Waits' precarious sonic dynamics. They sulk and sway to the rambling shuffle of Dirt in the Ground and then groove and jive to the funky Such a Scream.
The painstaking care that went into the selections chosen for Glitter and Doom contribute to at least half of the success of this live album. While nearly all of the selections are from Waits' post-Swordfishtrombones, experimental era, they still effectively demonstrate the varying textures of his boundless musical palette. There are the ballads (I'll Shoot the Moon), the freakshow circus acts (Singapore) and the poetic story-songs (Live Circus).
And then there is the second disc, 35 minutes of spoken-word musings by Waits as he noodles away on the piano. This is the closest he gets to making a caricature of himself – at over a half hour, some of the stories Waits tells his audience are trying a bit too hard to be clever or deliberately absurd. But there's no denying that even as the man rambles, rolling his fingers over the piano keys in an unconscious splatter, he has his audience enraptured in his every word. Waits has an uncanny ability as a mental tour guide – it seems that the farther he takes you into the dense thicket of cerebrally drunk imagery, the tighter you hold onto his hand.
Tom Waits is a living, breathing spectacle. It seems that everything he does, from interviews to music to film, permeates the air with a scent of fascination. Such a person is perfectly built for the stage. Glitter and Doom doesn't include a pocket-sized Waits who sings and dances atop your candelabra with a pawn shop marimba, but it provides you with the tools to imagine such a sight. It's the closest you can get to the real thing – unless, of course, you are lucky enough to live in Mobile, Alabama.
3 December, 2009 - 11:19 — Andy Pareti