Music Reviews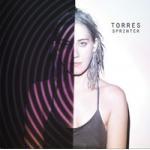 Torres Sprinter
(Partisan Records)
Buy it from Insound

McKenzie Scott is running from her past, although she's not hiding from it, either. The 24 year old Nashville singer-songwriter has been forced to reach a certain autonomy in her musical career just as she's experiencing changes of her own, changes that will remain unknowable for the foreseeable future. It must be a challenge to try to make sense of life's growing pains when you're right in the midst of them, when it's perfectly acceptable to make rash decisions and allow yourself the license to royally screw up without even knowing about it. Which is why it's fitting for Scott to look into her formative years instead of trying to make sense of the present, and brings to our attention a new focus: that of fully disconnecting from her religious upbringing, but not without first evaluating the impact it has had on her learning.
Sprinter is the follow-up to her commanding, wise-beyond-her-years debut effort, an album of exorbitant personal strife which broadly refuses to be weighted down by sorrow. Her honey-lacquered voice is calibrated with a surly attitude, recording poignant, honest moments that range from fear of abandonment to desperate longing. But there was also a questionable placidity in her words, constantly admitting her wrongs instead of dealing with those messy emotions with confused and irrational vehemence. In Come to Terms she remarks with a calm, even soothing tone, "And just because the two of us, will both grow old in time, don't mean we should grow old together," shrugged with a resignation that's better left for those who increasingly become jaded over time. It was a cold, hard first lesson for an artist who certainly knows how to channel her passion.
Those feelings of non-guilt, or perhaps well-disguised evasiveness, were balanced with minimal compositions teeming with controlled fury. In Sprinter, her primitive weapon continues to be her forceful, brutally titillating voice: "What's mine isn't really yours/But I hope you find what you're looking for," she declares over a guttural cry in Strange Hellos, revealing a ferocity that was only slightly implied, if spoken with passive aggressiveness, in Torres. There's a desire to confront things openly, ignoring any sense of there being an audience, a powerful response that makes her vulnerable, if not more human. Her songs can be considered muscular, but only to a certain degree - she's perfectly content taking the more meditative approach in New Skin, tenderly caressing the chords of her electric guitar as she muses with excited apprehension, "Lay off me would ya/I'm just tryin' this new skin for a spin."
The question of identity is an important, though rewarding dilemma in Sprinter, in which Scott lays out open the hypocrisy of the secular Baptist institution she was a part of from an early age. "The pastor lost his position/went down for pornography/So I found myself some ground to stand," she recounts with her vivid, down-to-earth manner without resorting to ill-judged condemnation, more so backtracking to a time of moral adjustment. These small vignettes have varying degrees of detail and even subjectivity: "We drown out winter livers with bleary expectation," she rejoices with winsome release in Cowboy Guilt, renouncing the pure implications of donning your "Sunday best" in favor of new, forbidden experiences. Even the slight, dotty synths of the track highlight Scott's "sinful" misadventures with a tinge of playful mischief.
As potent as these moments are in Sprinter, Scott can't turn away from writing a passionately thoughtful love song with all the hurt it causes. There's hardly a word said in the seven minutes of Ferris Wheel, featuring a slow-as-molasses guitar lead that perfectly evokes a quiet tension between a couple whose quandary we can only guess. "There's nothing in this world I wouldn't do/show you that I've got sadness, too," she laments as the song draws a haunting portrait of uncertainty with its delicate slow burn. It's one of the least confessional moments on the album, but it's just as intimate, handled with the kind of unhurried precision that suggests Scott's signature approach is to create intensity even in the pauses. We're still thinking about its effect once The Harshest Light follows, a track that's beguiling in itself, though it seems to conveniently ratchet up the seething anger when we've begun to accept its final half as more subdued.
Theres isn't much about Sprinter that really deviates from her debut effort, as there's still a whiff of Southern charm behind her disarmingly concise songwriting. These are songs that mostly get to the heart of the matter with open-hearted directness, and in balancing the coarse with the refined there's a clearer sense of what Scott wants to find even if she struggles to understand the conditions that affect her most deeply. Her recent move to Brooklyn after departing from her conservative roots may seem like a distraction of sorts, a facile way to get away and move to a busy city because that's what musicians do, but in Scott's case it feels especially necessary. Scott has an implicit need to abandon the things that hold her back, a belief that fills her with both excitement and caution in equal amounts.
5 May, 2015 - 04:13 — Juan Edgardo Rodriguez