Music Reviews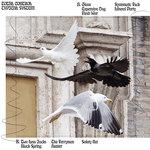 Total Control Typical System
(Iron Lung)
Buy it from Insound

At first, it's hard to discern whether Total Control operate as performance pranksters or genuine post-punk innovators. The Australian five piece are constantly on the verge of outright panic on their second full-length Typical System, communicating with an altered perception of self that's conveyed in a rather urgent tone through their sometimes nettling, other times inviting dark sounds. There's a remarkable duality in their work greatly due to frontman Dan Stewart, an early thirties philosophy student who almost treats his band as a cathartic vehicle to vent his personal feelings. And as it is with a well-versed scholar, he's a man of many ideas, trying to wring a glut of information into the constraints of a 40-minute record.
This kind of boundary breaking was contained wholly in their debut effort Henge Beat, an absurdist art exercise of atonal, fragmented noise that found beauty in its rough, raw textures. It also played a tad conventionally at parts, a surefire sign that they are (not so) secretly interested in making that step into a more accessible realm except on their own terms. It only takes a good thirty seconds to let their latest venture sink in - a paean to electronic pioneers the Human League, album opener Bloody Glass has much in common with the lecherous romanticism of new wave in how it expels an airtight, mechanical groove and programmed handclaps alongside an army of fat, infectious synths. Except that Stewart doesn't really want to head out into the dancefloor, and instead mumbles creepily in an anguished low key like a perturbed dadaist poet, using the splashy drone that makes up the track as a way to slowly numb you into his own madness.
Stewart may string together stray words, and without much clarity at that, rejecting any reason or logic and instead esteeming those who may give them more thought then they actually merit. Which is why the music courses with a narrative that's counter to that - the monochromatic rhythmic pattern of Flesh War underscores its brisk, icy synths, and they're almost at their most pleasant as if rewriting The Psychedelic Furs' Forever Now, but still has that acerbic air of ennui that displays their penchant for abstruse, lyrical repetition. It's as if there's a resolute desire to mitigate any signs of optimism even when the songs are at their most playful, like the blaring, exhilarating darkwave of Hunter, which has an almost anthemic feel if one completely disregards Stewart's flat and grating vocals.
Total Control mainly adopt the merry exultation of new wave and coat it with a scabrous finish on the surface throughout Typical System in half of the album's ten tracks, whereas the other half is comprised of spontaneous blasts of anomalous punk. Expensive Dog, with its primitive, Stooges-like delivery, follows Bloody Glass so abruptly that it's not entirely clear which direction they'll veer as it progresses. These two shifts do differ contextually, and with much skill, which is just another way of saying that it's a pre-requisite to drill into their heads to fully grasp how these two seemingly contradictory styles can harmonize together. Two Less Jacks is by far the more fully-realized in both form and motion, featuring a splattering drum pattern that mingles just right with the track's discordant, minimal arrangement.
The one unifying force in Typical System is how it careens through with a pervading sense of menace, of exploring a collage of past post-punk styles with a thick sneer and an overly abrasive attitude. Which brings us a bit closer to understanding Total Control as a collective, yet without necessarily knowing the root of their troubling confusion (especially Stewart's biting lyricism) with certainty. And it needn't be - Typical System could be considered a psychological manifestation of Stewart himself, who greets his withdrawn manner with a serviceable amount of hooks despite the band's knack to subvert traditional pop structures. So there's a mystery that still lurks in their impenetrable delivery, both brutally artsy and adamantly tuneful, exposing its imperfections so that we can engage with it on different levels. Their free form approach is certainly amusing, perhaps too cerebral at times, but that's just another way of reinforcing they want us to figure out what they're aiming for.
24 June, 2014 - 04:17 — Juan Edgardo Rodriguez