Music Reviews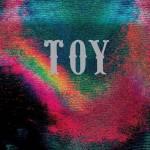 Toy Toy
(Heavenly)
Buy it from Insound

The first thing you may have heard about Toy is that three of them were the Jing Jang Jong to landfill indie false-starter Joe Lean. It's a fact they seem intent on relegating to a piece of trivia rather than their backstory. Interestingly, although the Jing Jang Jong were clichéd to the point of ridicule, they withdrew their hotly-anticipated debut album before it hit shelves, apparently because they felt it didn't represent their artistic development. That might have sounded ludicrous back then, but on the evidence of the lush, mature art-rock of Toy, any association with landfill indie was the result of being in the wrong place at the wrong time. It's a record formed from a wide range of influences rather than a few skims through the NME.
Toy have delved deep into the roots of psychedelic rock as the basis of their debut's broad heritage. They must have spent a long time collecting pedals and jamming out, and by way of krautrock and post-punk structures, they've condensed an expansive array of sounds into something very cohesive. And they've done so without sounding too far removed from radio-ready indie-rock songs – although lead single Motoring typifies their tendency to chug a bit, second single Lose My Way is a more satisfying cut, but for me the catchiest song is opener Colours Running Out, which is impressive given its off-kilter modal key.
But the most rewarding songs, and those on which Toy sound like they're enjoying themselves most, are their more experimental freak-outs. A particular highlight is the wave-riding motorik of Dead & Gone, stretching out the rock thumper at its core to a justified seven-and-a-half minutes. Even more indulgent is the soaring closer Kopter, at almost ten minutes; it's a vehicle for Charlie Salvidge's cathartic drumming and some colourful squirts of guitar pedal noise. But they're equally intriguing when exercising restraint, as on the spooky jangle of Strange, which vanishes midway into quiet, cavernous feedback before lurching back for a noisy reprise.
There's only one song I must mention that doesn't match up – Heart Skips A Beat has an abysmal Midi-strings intro, almost enough to convince me they'd fluked their psychedelic sweet spots. What might at best have been a lethargic new-wavey throwback is ruined entirely by this unsavoury production, particularly on the keys – but it might have worked out were it not for the larger problem of this record, which is that the lyrics are, without exception, formulaic dreck, written with the bare minimum of effort and expressing no character whatsoever. I've already said that Kopter is terrific, but the first three minutes are almost unbearable: "I'm not gonna lie / Many times I've tried / You don't care for me / Now it's plain to see". Mostly, you don't notice because the songs are so dense, but it stops the album from being anything more than pleasant.
Another qualm is the lingering notion that their whole aesthetic is a ripoff of another band. But I reckon they're clever enough that I never pinned down exactly which band that might be – they're much fuzzier than Deerhunter, more jam-inclined than The Horrors, far lighter than Slowdive – and if it's true that they're introducing the kids to krautrock and psychedelia I'm all for it. Perhaps more of an homage than an invention, then, but still, an absorbing debut.
18 September, 2012 - 10:47 — Stephen Wragg