Music Reviews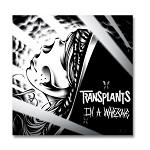 Transplants In A Warzone
(Epitaph)
Buy it from Insound

When two well-known musicians branch out and make something a little different, it can be hard to temper expectations. That's the problem Transplants dealt with when blink-182 skinsmaster Travis Barker and punk crooner Tim Armstrong of Rancid decided to get together and jam. While it would be hard for them to replicate the success enjoyed by their respective bands, Transplants crafted a pretty unique blend of ska/reggae/rap/punk on their first two albums.
With In A Warzone, the band's third effort, they have tightened their focus and gotten a little ornery. There is less of the dabbling into reggae, rap or ska that their first two albums had in spades. Instead, it's replaced with punk-heavy anthems of rebellion, addiction and loss. While the band had a casual, sampler-platter approach to musical styles that worked in its favor, it is almost entirely a punk-rock experience with a few detours into rap. The variety that Transplants have employed in the past is gone and the omission is noticeable.
But what the band lacks in variety, they make up for with sheer enthusiasm. This is a group who clearly enjoys what they do, and that affection shines in every song. By now everyone knows Tim's lazy singing drawl, while Skinhead Rob still spits raps with an unhealthy amount of anger. However, this album is much less focused on rap, trading it instead for shout-out choruses and some pretty banging guitar work.
One of the standouts is the piano-driven basher Something's Different, in which the band extols the frustrations of life. "I'm trying to make it to a place that don't even exist", Skinhead Rob bemoans under a piano and guitar bridge that will move in to your head. Then there is Come Around, which is a Lars Frederiksen verse away from being a damn good Rancid song, with driving guitars and Tim and Rob both waxing philosophical on the state of relationships and city living.
Most of the songs on In A Warzone are full of energy, and it's hard not to get swept up in the slimmed down punk rock that the album delivers with gusto. However, there is definitely a point where they start to sound very similar, as there is not a lot of variety between the numbers aside from the occasional piano addition. This makes the back half of the album feel like one long cut. Even if it doesn't reach the lofty heights that Transplants' debut album did, In A Warzone is a strong punk-rock album that, made by anyone else, would be commendable. However, with the members' strong pedigree and the band's previous work to compare it to, the album comes off as just a little disappointing.
1 August, 2013 - 04:28 — John Grimley