Music Reviews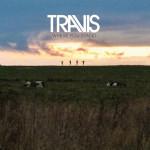 Travis Where You Stand
(Red Telephone Box)
Buy it from Insound

To better understand where a band like Travis currently stands in the pop pantheon requires going back to the beginning. They lured us under the false impression that all they wanted to do was rock back when the British press deemed them as the next "trad" rock band to break free from those shackles, which in itself reads as insulting: because to outclass your contemporaries, it's as if you're expected to pass a standardized test first before even considering taking a more adventurous route. And Travis did pass with flying colors, but not in the way you'd normally expect: they knew that edgy was never going to be their selling point so they followed Good Feeling with the awfully successful The Man Who, a soft-toned, yet richly conceptual effort that comes across as a distinguished exemplar on how to write the perfect pop rock ballad.
The ensuing years were entirely bereft of achievement for Travis, largely due to this oft-repeated misconception that they were supposed to bring a grittier take to the arena rock formula. Fran Healy may have shot himself in the foot by saying that he wanted to rock, but such words had never been expressed so faintly. His turn of the millennium discourse against regulatory complacence and lack of altruistic empathy may have been admirable, but their affably lightweight melodies weren't a strong suit to submit such matters. The songs finally kept up with the message in Ode to J. Smith, but the intent was ill advised – a forced attempt to crunch their guitars, even when their penchant to appease with flowery melancholy was tucked so neatly in the seams.
But there's a reason why these genteel Scots have remained relevant after sixteen years, and especially now after a five-year absence, and it's in this incessant belief of knowing they're capable of knocking out a classic even if they played the albums game quite poorly for the past decade. Minding any expectations, or lack thereof, it seems that Travis are more interested in writing a record that suits their age and character. The acoustic lullaby that opens Mother is pleasantly light and airy before it breaks into a widescreen projection of pinky piano licks and bright harmonies alongside a grandiose choral work that fits its corporeal rhythm section. From there it segways seamlessly into Moving, a mid-tempo jaunt that prompts that all-too-powerful command of "getting through it" with convincing vitality. It's the bitiest they've sounded in years, and though that half glass full sentiment may irk those who shun at optimism in song form, they refuse to flaunt it with phony earnestness.
Interestingly enough, Where You Stand may be the first Travis record that snugs comfortably into an adult contemporary format. The title track radiates with a luscious grand piano, marking Healy's palliative delivery in the simplest of ballad forms. Not that they occasionally falter when they go forward with the kind of appended studio tricks that producers usually greenlight to "square" artists wanting a bit of a contemporary makeover – for instance, the muted guitar chord in Warning Sign is somehow integrated into the kind of placid melody that's just begging for air time in a hospital TV drama, and the spooky dub of New Shoes shapes into an echoing grind that's amusing at first, but doesn't hold up with repeated listens. Some of the more compelling songs are the ones that resonate with their best singles, like On The Wall, a no-frills guitar anthem that sounds like a sped up version of Follow the Light; it delivers the kind of toothsome melody that soars with an open-hearted disposition.
At this point, it's appropriate to say that Travis anchor themselves in a middle ground with contentment, since their moment in the charts faded years ago and is never to return. And those who weren't into Travis in the past aren't going to follow suit – you're not really aspiring for rock n' roll if your album is coupled with gratifying clichés, Mahatma Gandhi references, and pristine balladry. Their comely melodies are too soundly crafted to fall into much of the technical gimmickry you hear on FM radio, just as they're too benevolent to win the hearts of modish indie fans. But what they do have is the ability to take a good portion of both opposing ends, which ultimately wins any majority. The clamor for more Travis still exists, which is more than you can say for the long-overdue absence of Embrace.
21 August, 2013 - 04:37 — Juan Edgardo Rodriguez