Music Reviews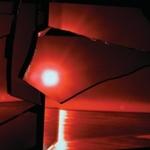 TV On The Radio Nine Types Of Light
(Polydor)

Anyone who felt slightly disappointed by TV On The Radio's attempts to get a little bit funky on Dear Science should have some of their faith restored by Nine Types Of Light, which doesn't quite return to the uneasy, industrial sound of the first two records, but nonetheless reclaims some of the grit their last effort often lacked. It's not entirely free of all that Prince-loving: the vocals break into a soulful falsetto more than once, but it's not nearly as all-consuming as it was last time around.
In fact, this album probably shares just as much with producer David Sitek's solid outing as Maximum Balloon as it does with TV On The Radio's previous material. Guitars take something of a backseat to basslines and swirling synths, and where they do exist they're transformed by thick layers of effects. Electronic beats also play a much bigger part than before, although they're usually backed by some kind of acoustic percussion.
Although Nine Types Of Light certainly feels like a natural step on from Dear Science, it's not completely devoid of fresh ideas. Killer Crane is a slow-paced psychedelic trip - kind of Beatlesy, in fact, with a soft bassline, mellotron and sitar combining to create a soothing sound. Repetition is the punkest thing they've done, with blistering drums and fuzzy guitars building to a massive crescendo. These new sounds aren't the main highlights, though - those come when the band revisit familiar territory. The hard-hitting beats in New Cannonball Blues and Forgotten are endlessly pleasing, while Will Do boasts one of those melodies that just seems to burrow its way into your brain.
But there is something missing from this album, and it's the same thing that was missing last time around. TV On The Radio built their name on dense, abrasive rock music with irresistible grooves and pained vocals. In that respect, Nine Types Of Light is often lacking. Whether you will enjoy this ultimately depends on whether you're more of a rocker or a dancer - indeed, some people much preferred the mellower sound of their last record - but there's little denying that this album misses a lot of the urgency and sheer emotional energy of the band's first two LPs.
18 April, 2011 - 09:40 — Joel Stanier