Music Reviews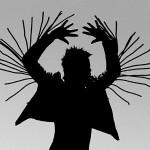 Twin Shadow Eclipse
(Warner Bros.)
Buy it from Insound

There was always a maximalist bent behind the George Lewis Jr. approach to songwriting. When Forget dropped in 2010, his Manchester-inspired croon not only garnered a few comparisons to Depeche Mode and Peter Gabriel, but also disguised Chris Taylor's multi-faceted, esoteric production as subdued, new wave pop. Confess, produced by Lewis himself two years later, was no exception – instruments and synths exchanged effortlessly, until songs had arrived at unexpected destinations. But by trading in subtlety for hair metal guitar and Springsteen-esque melodrama, Lewis made one thing exceedingly clear: his voice must be heard, damn it!
Eclipse echoes this sentiment, but at the expense of everything else. Twin Shadow is now a vehicle for Lewis's insatiable ego and drive for stadium success, a half-hearted attempt at a No Jacket Required level of mid-career turnaround without the commercial fanfare. Foregoing the linear songwriting of its predecessor, this album marks the first time Lewis sounds predictable. The Baba O'Riley riffs, arena-sized choruses, and minor chord ballads have all the nuance of driving a bulldozer into a cemetery to bury a loved one. Which isn't particularly surprising, given that Lewis actually recorded the album in a cemetery. Why would he do that, you might ask? Because he's an artist, and that's what artists do.
Lewis continues his upward trajectory into self-important romanticizing, delivering bafflingly megalomaniacal lyrics that, even when told in third-person, concern only himself. Case in point: the perspective change in I'm Ready that explodes into a new-age pontification about love. The track speaks in such universalities that, in an effort to relate to an audience, it comes across an amateur attempt at fable writing. Elsewhere, the album flaunts awkward clichés as if they were revelations, spewing out phrases like "Pump it up," "You make something so right, so wrong," and "I'm addicted to the chase." If these sound awful to you, then brace yourself; they are all contained within the first eight minutes of Eclipse.
The musical foundation of the album is equally as rocky. Lewis abandons his lower register almost completely, pushing the album into constant climax with little reward or dynamic. His departure from Morrissey's vocal vocabulary into Sam Smith territory is not necessarily ill founded – many of his contemporaries have already ditched their referential roots – but it comes across as misguided and insincere. He told Pitchfork in February: "I don't have the whiny, cool, indie rock/pop voice […] I want to use the voice that I have, " as he mocked Capital Cities. Apparently his stance has changed on that issue, based on the repetitive whoa-ohs that soar over the punctuated pop piano of Old Love/New Love. Similarly, he mirrors the heroic chanting that graced radio singles from The Lumineers and Of Monsters and Men, mostly to overblown effect on songs I'm Ready and To The Top. And while leaving the guitar on the rack sounds like it might be enough to offset the gaudy vocals, Lewis manages to push every synth to its compressed limit. The reverb no longer serves to distance or haunt, as it did on Confess; instead it amplifies each instrument's bombast and pompousness in a way that borders on self-parody. The sad truth is that there isn't any punchline.
While not everything here is awful, the good is often streaked throughout each song like marbled fat in a rubber steak. The overwrought chorus behind Turn Me Up overpowers the slinky groove and brooding atmosphere that keeps the verses compelling. Lewis deploys his trademark distorted guitar attacks to maintain interest, but perhaps too sparingly; he alternatively relies on a beat and piano melody ripped right out of Teardrop from Massive Attack. His harmonies with D'Angelo Lacey that conclude Old Love/New Love lament over dissonant keys in an illuminating fashion, hinting at a darkness far greater than what is expressed on the rest of Eclipse – but they are abruptly cut short. Label it a bad call, but it is an allegory for something far greater at play: Twin Shadow is more than capable of creating beautiful music; he is simply editing himself out of the picture.
25 March, 2015 - 04:00 — Joseph Moore