Music Reviews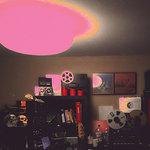 Unknown Mortal Orchestra Multi-Love
(Jagjaguwar)
Buy it from Insound

The story behind the release of Unknown Mortal Orchestra's Ffunny Ffrends and subsequent eponymous debut album has been glorified into musical folklore, likely to their detriment. Ruban Nielson, plucked from the shadows of an anonymous Bandcamp account and an innocuous song upload, was suddenly thrusnt into the internet limelight within a matter of days. Before indie blogs like Gorilla Vs. Bear and Brooklyn Vegan were perpetually inundated with bedroom recording projects and bandwagon indie rock bands, they had the promise of becoming a beacon for inventive artists. If Nielsen's talent and knack for psychedelic pop could be detected even without the context of his professional past (Nielson was a member of "shitgaze" band, The Mint Chicks), the future looked promising for musicians who were maybe too introverted, or isolated even, to put together a band and parade themselves across the country.
That possible future dissipated into a bleak oversaturation of musicians attempting to forge their own "Jack Tatum/Alan Polomo/Ruban Nielson/Ernest Greene" stories of success and self-grandeur. Four years later, Unknown Mortal Orchestra are still detailing the oddness of their inspiring triumph over and over again in the press, unable to outrun the heartening implications of their popularity. Unfortunately, those implications have all but dried up — the internet is simply too vast to expect the sudden materialization of musical credibility. Nielson's meteoric rise was ultimately a product of simply being at the right place and time; an avenue stumbled upon by someone who had been relentlessly making music for over ten years with limited results.
With Multi-Love, UMO's third album, Nielson has further divorced himself from the band's humble origins. The familiar hiss of analog tape and clipped vocals make their expected appearances, but Nielson's production prowess has shifted the songs into either dizzying complexity or relative clarity. While the inspirations driving the album are not entirely different from Nielson's previous influences, the meticulous studio mixing is enough to turn straightforward tracks like Ur Life One Night and Like Acid Rain into infectious headphone listening. Elsewhere, Nielson has adopted even stranger musical foundations, choosing to augment melodic hooks with chord progressions that propel themselves forward into unexpected realms instead repeating themselves ad infinitum. The lead single off the album, Can't Keep Checking My Phone, exemplifies this approach with aplomb. The funky guitar stabs and echo-doused overdubs are initially underwhelming in their apparent aimlessness until Nielson's soulful rasp orients the disco octave thump.
Lyrically, Nielson has always had a fixation with intertwining absurd imagery and universal proclamations. That trend continues on Multi-Love, but often with more grit and specificity. In a veiled confessional involving his polyamorous relationship, Nielson laments on introductory song Multi-Love: "I'll be her Vicodin; expired and escaped to Valhalla / She don't want to be your man or woman. / She wants to be your love." The metaphor is tangled up in reference (and a tad verbose), but manages to capture the intoxication, the separation of gender, and the martyrdom associated with limerence and forbidden love. And it speaks volumes that the song could be equally applicable to a marriage resulting in a child as well. Though Nielson's penchant for psychpop and might be the defining feature of the band, Nielson's LSD-inspired musings burrow themselves a comfortable niche of their own throughout the album.
The lack of immediacy on Multi-Love is palpable, however — slower jazz lullabies like The World is Crowded and Necessary Evil are eventually rewarding, but take time to unfurl themselves. Nielson may be at his most refined, but his performances are rather reserved; rarely does he come close to the kinetic momentum of a song like How Can You Luv Me, or the unguarded freneticism behind the Page-esque solos of their debut. Still, the tradeoff is roughly equivalent. If II proved that Unknown Mortal Orchestra could deliver a full-fledged psych-pop record without alluding to fantastical trivialities such as "smiling alligators" or "bags of Cheetos," Multi-Love demonstrates that the band isn't beholden to a singular, lo-fi aesthetic. And for now, that's more than enough.
9 June, 2015 - 06:00 — Joseph Moore