Music Reviews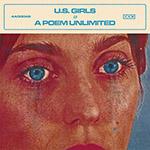 U.S. Girls In A Poem Unlimited
(4AD)

Groove and despair are no strangers. It's been tested and approved the idea that somehow bad news sounds better if packaged within the catchy confines of a club-friendly rhythm or a memorably articulated melody, the highs and lows of love and relationships the stuff of countless songs.
Sometimes, though, that groove is a red herring. When you hear a woman in a song forgive the abuse inflicted upon her by the man in her life, that rhythm isn't meant to encourage you to dance. It's meant to shake you awake. It's within the determined swing of the song Incidental Boogie that Meg Remy sings, "He hits me left, hits me right, all the time but no marks, no evidence to see. Don't you know there are days I feel so lucky?" There's a resignation in her voice, even some illusion of control that carries the same level of impact as the music beneath, bold accents slicing up the flow like moments of apprehension perhaps enabled by clarity. Halfway through my first listen of the 38-minute span of In A Poem Unlimited, Remy's sixth U.S. Girls full-length, it became difficult to process the euphoria of the pop and dance arrangements I heard with how they exist in this album as platforms for injustice, rage, resentment, pain, resignation, exhaustion and abuse.
Over the last 10 years, U.S. Girls has evolved from a lo-fidelity solo experiment into more of a collaborative entity, Remy's lasting creative partnerships with Max "Slim Twig" Turnbull and Louis Percival aiding her development. For In A Poem Unlimited, the Canadian-based multi-genre ensemble The Cosmic Range - of which Turnbull is also a member - were added to the roster, structuring disco loops and funk around Remy's narratives, which our political climate seems to have finally caught up to. As activist hashtags #MeToo and #TimesUp bear weight and stage heavy resistance against a significant and still increasing population of men with power, Remy's words prop up the cause, not quite providing the movement its anthem(s), but certainly offering its reason(s) why.
Once again, groove and despair are no strangers. With the noir'ish revenge fantasy Velvet 4 Sale ("Instill in them the fear that comes from being prey…") and the acted-out seduction of Pearly Gates ("…St. Peter asked for one chance to be an angel in his eyes / It seemed to be the safe bet, so I closed my eyes / And opened my gates wide / And St. Peter came inside…"), Remy's vying for an upper hand while critiquing sexual politics, sultry rhythms put to work as tables are turned and desires are exploited. Mad As Hell's disco march against conflict follows the lounge-based Rage of Plastics, piano lines and brass accented with backup singers and wah-wah processed guitar melodies.
Maybe taking musical cues from John Lennon's Scared (from his 1974 LP, Walls and Bridges), Remy slowly qualifies and executes a breakup on L-Over. "Can you imagine trying to get some satisfaction out of a stone?," she asks, "One would have to wait their whole life and I don't got time for that." Her vocal is delicate, maybe portraying some level of vulnerability. But the lack of sympathy is compelling, her patience evidently worn thin. "I got my thrill," she sings, "now get me off this ride."
Crafting beats and strings for Rosebud, hitting up modern R&B to some extent, Remy's breathy stanzas compliment the track's fluidity. This odd minimalism is also tapped for Poem, with synthesized notes set to a modest trance beat. Following a brief field recording called Traviata, Time propels the album to a close, where rapid disco pace and hand drums push through dissonant guitar sounds and sleek brass. The track's immediacy and length sound cathartic, a wordless succession of minutes meant to shake us awake. [Believe the Hype]
21 February, 2018 - 05:42 — Sean Caldwell