Music Reviews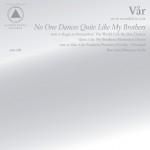 Vår No One Dances Quite Like My Brothers
(Sacred Bones)
Buy it from Insound

Vår is the Danish word for "spring," a time of year often associated with flowers and sunshine and singing, colorful songbirds. It's the kind of warm, joyous scene that you would imagine none of the group's members, based on their previous musical endeavors, have ever experienced for themselves. That's because the members of Vår hail from Copenhagen's notoriously aggressive and nihilistic underground punk scene, where young, emaciated looking bands craft hardcore so cold and blackened that it's surprising Northern Europe hasn't frozen over by now. I don't know what it is about the environment that causes guitars to sound especially menacing and throats to sound so sore, but by the looks of things, the winter of Denmark's punk scene is only growing colder and colder.
This is exactly why it's surprising that Vår proves to be a bit more suitable a name than anyone would have expected from such an angsty scene. On paper, the idea that members from some of the scene's heaviest hitters – Iceage, Lower, Sexdrome – have come together for one project seems like the perfect blizzard of depressive, serrated hardcore. Well, half of that statement does hold up, as No One Dances Quite Like My Brothers, the band's debut full-length for Sacred Bones, can be as bleak and unforgiving as anything its members have released on their own. But by distancing themselves from the aggro-punk chaos associated with the Copenhagen scene in favor of lush atmospherics and synthesized dance beats, No One Dances manages to chip away just enough ice to allow a few flowers to bloom.
One thing that separates No One Dances from much of what we've heard from the Copenhagen scene is how difficult it can be to categorize it. The project, which originally went by "War" and consisted of just Elias Rønnenfelt of Ieage and Loke Rahbek of Sexdrome, has undergone quite a stylistic shift since its inception early last year, with early singles, like Brodermordet and In Your Arms (Final Fantasy), coming off as relatively straightforward loops of foggy synth pop with reverb-soaked vocals. These elements are still firmly in place, but the addition of members Kristian Emdal of Lower and Lukas Højland brings a more fleshed out, "full-band" approach that introduces traces of industrial, post punk, and no wave, making No One Dances a surprisingly diverse collection of gloomy goth pop that never stays in one place for too long.
"Goth" seems like a vague and dated term to throw around when describing anything dark, but Vår's combination of gauzy romance and bruised desolation almost begs for the comparison. I'd hardly settle with referring to No One Dances as a "retro" or "80's indebted" album, but it's hard not to imagine tracks like The World Fell and Pictures of Today/Victorial, with their catchy synth hooks, post punk guitars, and droll, confrontational vocals, fitting pleasantly in a dimly lit, smoke filled basement surrounded by droopy, eyeliner clad youths in the early 80's. Meanwhile, Into Distance, the album's most original and complete track, features Rønnenfelt pulling off his best Robert Smith impression, wailing and crooning his blood-drenched heart out over manic snare rolls and dreary horns.
This light/dark dynamic goes far beyond the "goth" comparison, however, as Vår manage to pull off this motif throughout No One Dances in a number of interesting ways. Opener Begin to Remember, with its disparate, doom-ridden stomp, would come off as totally pitch black were it not for the sparse synth twinkles that bring in some light, and the title track's spoken word mantra amidst a backdrop of dense synth washes sounds reminiscent of an M83 track scrubbed and soaked in acid. The only totally menacing track found on the album is the stark, nearly tuneless Motionless Duties, which could almost pass for an Iceage track with the main guitar and bass riffs edited out.
At their best, Vår utilize the gloom and doom of their influences to craft dense yet catchy songs that are as brooding as they are danceable. However, the group also tries their hand at pure atmospherics, with tracks like Boy and Hair Like Feathers using synths, guitars, and even vocals as sparingly as possible to create climates of pure dread. Unfortunately, this is where we find Vår at their weakest, as these tracks come off as unnecessary interludes that ultimately hurt its momentum midway through. With the amount of care and attention to detail found in tracks like Begin to Remember and Into Distance, it's a shame that their more atmosphere-oriented tracks feel the least realized, coming off as throwaways in an otherwise structurally sound record.
Back in 2012, Vår's first show in America (back when they were a duo called War) ended with a peculiar sight: Rønnenfelt and Rahbek quietly embracing as one of their tracks blared in the background, remaining perfectly still for minutes on end. Being vocalists for two of the Copenhagen scene's most fiercely aggressive bands, seeing the two in such a lovingly intimate and unguarded position seemed almost as unexpected as the fact that they were doing it to foggy club beats. But if No One Dances, or Vår as a whole, attempts to accomplish anything through its cracked-disco-ball romance, it's in the way it presents Denmark's pre-eminent nihilistic punks as sensitive and emotional beings, single handedly adding a whole new dimension to a scene that most of us already thought we had fully pegged.
22 May, 2013 - 04:13 — Peter Quinton