Music Reviews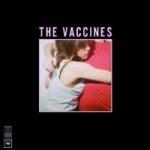 The Vaccines What Did You Expect From The Vaccines?
(Sony)

Let's take stock. A lot of people will hail this album is a poor Ramones imitation, but before you do remember that songs like Wreckin' Bar and Post Break-Up Sex are pretty excellent. We can all admit that can't we? Given this band's press, it's because we fear that What Did You… will be gargantuanly average that it's just so tempting to decide that it is – and many are very guilty of that already.
Wreckin' Bar is very brilliant; it's mental and rugged and short and a sure fire cure for the synthesiser malaise that has plagued the independent music industry for the last few years. In that 1 minute 22 seconds is the promise of a Telecaster wielding executioner – one brimming with flaming, unquenchable anti-heroics and overflowing with that so long lost guitar cool. That's a lot of promise for just over a minute, but it speaks more about the state of British indie than it does the Vaccines. Whatever your allegiances, it's good – that is what matters.
And then comes If You Wanna, a little cleaner than I remember the demo being, and that's a shame; still, it's a great, jubilant, bounding, beast of a pop song nonetheless – with a riff so immediate it's difficult not to get sucked in. It's with a hardy bassline, simple kit drums and then a shifting chord that the first of the debutants makes its entrance: A Lack Of Understanding, its curving, easy anthem - drifting by as it concedes "I've got too much time on my hands / but you don't understand / oh you won't understand". B-side Blow It Up confirms this languid aesthetic as not only highly replicable but equally well crafted.
The subject matter is all love, young living and growing up, a view of the world set in the mind of a twenty-something Londoner. It's not trivial but it's never far reaching in its insights, to the point at which it muses on the effortless clarity of Wetsuit: "For goodness sake let us be young / because time gets harder to outrun." Remember simple elegance always overcomes complex metaphor, and that's certainly evident here. Norgaard performs a similar trick, with far less gravity as it rips out the line "Her minds made up, she don't want to go steady / she's only 17 so she's probably not ready." Before spelling her name "A-M-A-N-D-A Norgaard" And yet the offense feels instantly forgivable as the staccato refrain spins it off with a playful charm. On Somebody Else's Child they do attempt a far weightier subject, as it acknowledges "I never had much in common with you / you brought me up, gentle and mild / but I'm somebody else's child." Here they get it so very right; if less attractive than its opener, it closes the record in strong, sobering style.
At about track number 8 their success finally falters and the latter end of the album begins to drag. Under Your Thumb and Wolf Pack are not bad, they just stray painlessly towards mediocrity – and that's a near lethal label for so fancied a band to carry. Fortunately the threatened implosion never quite comes and All In White holds the line. Family Friend follows well but any revival never takes off, with its melody left stagnant all too soon.
In all this album won't be world changing. The Vaccines are not "the saviours of British rock and roll" but What Did You… doesn't need to be. Instead it's inviting and well observed more than anything, a triumph typified by Post Break-Up Sex – a sublime sketch of that insensitively cute idiom, all guilt-ridden and relatable. The song is a social commentary with a fish-eye view and such a theme would do well as a summary for this album as a whole. So as the mindless masses of the hype machine cough up endless 'illegitimate Ramones/Beach Boys lovechild' similes, please ignore them and enjoy this – after all, what did you really expect from The Vaccines?
16 March, 2011 - 10:11 — Joe Iliff