Music Reviews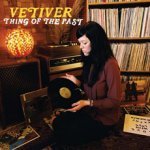 Vetiver Thing Of The Past
(Fat Cat)
Buy it from Insound

Two years on from cult favourite To Find Me Gone, Vetiver is back with a new record, but it's not exactly the record I was expecting. Andy Cabic's loosely defined collective has never quite conformed to the new folk rules, frequently incorporating 70s West Coast rock and Brazilian influences into its sound, and this latest unexpected turn will undoubtedly prompt a few raised eyebrows.
So here's the deal – Vetiver's third album is a covers record.
Anyone who's ever been in a band will recall discussing (or arguing about) cover versions at one point or another. Often, at least in my experience, the process of selecting a song that everyone in the group agrees with can be a contentious issue. If it's not too difficult to pull off, a suggested song is usually either too obvious or too obscure. Only a group with such a singular vision as Vetiver could record 12 different cover versions – and mostly obscure ones at that – without even a hint of compromise.
Thing Of The Past is, quite brilliantly, successful in two rather different ways. First and foremost, it is a great sounding record, with Cabic once again utilising a talented troupe of musicians to help him realise his vision. Core Vetiver band members Brent Dunn, Sanders Trippe, Otto Hauser and Kevin Barker are joined by a large cast of gifted collaborators such as Dave Scherr (who contributes some memorable pedal steel) and folk icon Vashti Bunyan, who sings backing vocals on the gorgeous Sleep A Million Years, which is ironically a cover of another recently unearthed singer-songwriter called Dia Joyce.
If all of these tracks were originals – and to be honest, without the press release and the tracklist I doubt I would have known otherwise – this would be a hugely enjoyable record. But this being a covers record, there is an added bonus: like a skilfully crafted mixtape, Thing Of The Past provides an introduction to some very interesting artists, many of whom (like Joyce, for example) are barely known outside of Cabic's circle of friends and conspirators.
Take the opening track, Houses, for example. This was written by a Canadian singer-songwriter called Elyse Weinberg around forty years ago. Neil Young played guitar on it, apparently. I hadn't heard (of) it but Vetiver's version – a dreamy, country-tinged ballad that recalls, and pretty much eclipses many of Wilco's recent efforts – has encouraged to try to find out more about its author. Thankfully her only album, 1968's Elyse, was re-released in 2001 by Orange Twin. I doubt it'll be an easy find, but it's going to be good fun trying to track it down. Finding Dia Joyce's album – which even she didn't own a copy of until Cabic sent her one – could be a trickier proposition, but isn't that one of the joys of being a music fan?
I could sing the praises of each and every track, I could dig up pages of information about the original composers, but the truth is that finding out about the songs on Thing Of The Past is almost as fun as listening to them. And I don't want to spoil the fun. It's not all wildly obscure, mind you – there are tracks from the likes of Loudon Wainwright III, Townes Van Zandt and even Hawkwind on here – but even the most knowledgeable of music fans will find countless new things to enjoy here. And even if you recognise all of the tracks on Thing Of The Past, I'm sure you'll gain something from hearing Vetiver's stunningly rendered interpretations. This is a great album, possibly the finest covers record in recent memory, and it'll take some beating in 2008.
27 May, 2008 - 17:06 — David Coleman