Music Reviews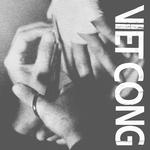 Viet Cong Viet Cong
(Jagjaguwar)

There's no way to make mention of Viet Cong without first recognizing the abrupt termination of intrepid noise pop band Women back in 2010. Like a ticking bomb that could go off any minute, Women seemed to operate in shambles both in a creative and personal way. After an on-stage altercation between brothers Matt and Brian Flegel, a dead giveaway for their termination, things turned gravely unfortunate when former guitarist Christopher Reimer passed away due to heart complications. To say that Viet Cong was born out of these troubling circumstances is to an extent fortuitous, a series of events that lead to a completely different project with a like-minded approach. Two former members of Women do, in fact, play in Viet Cong, and it shows - the jagged dichotomy between searing drone textures and skewed melodic hooks is omnipresent in their design, and the antipathy that surrounds it carries over from feelings of lament and rage.
However, behind Viet Cong's knotty disarray exists an equilibrium sustaining it. Women's abstract compositions were bulging with potential, and rather then remaining stagnant they challenged themselves to sneak in a smattering of hooks that rewarded in the least unexpected variations. There's an inexplicable symbiosis between both projects, and Viet Cong ultimately prove themselves more versatile from the pieces that were left behind. That sense of cavernous retreat controls their debut effort, and almost involuntarily so. The ear-splitting Newspaper Spoons makes an unwelcome arrival with a nihilistic chant, set against audibly unbearable levels of stinging noise that gradually soften into a transportive blur of dark minimalism. That metamorphosis between the unpleasant and the astral consumes the entirety of Viet Cong, and both feed from each other regardless of the colourless grey tone that infuses through and through.
That's not to say that the permeating unease of Viet Cong wallows in a sense of existential dread. Obfuscation is not the intended technique even if it initially sounds that way, and even if the piercing delirium of Pointless Experience exposes a bruised and cold disposition it does so with utmost transparency; the clamoring militaristic drums hit with such towering force they almost quiet the blaring, eerie siren wails that simmer throughout the track. The busy, dissonant interplay doesn't in any way disturb singer Matt Flegal's biting chorus ("Hideously synchronized with cold and cruel arithmetic/We're desperately debilitated/If we're lucky, we'll get old and die") giving substance to the ephemeral nature of death in what can be read as a contemplation on Reimer's short life. It's a theme they revisit in the album's 11-minute closer, a perilous monster of a finish that rejects the little skepticism found in Pointless Experience and turns it into doomed rationality, which steadily batters in cathartic cacophony until it intensifies into a glorious breakdown.
Viet Cong do drum up your attention with restless impatience, a blunt reminder that this is not a record that intends to be listened to in short spurts. Very much an album's album, the short running time is their generous way of acknowledging that it is, in fact, a weighty listen. But even so, the violent thrust it generates doesn't necessarily diminish its accessibility: the brilliant six minute Bunker Buster slithers from one idea to the next without losing its footing, and does so by focusing on texture and groove rather than spasmodic flair. And dig a little bit deeper and you'll discover that a track like Continental Shelf emphasizes a tenebrous mood with a highly delectable beat. The careful sequencing is just, if not, as important as the album's overall substance, with guitar work that is far too stimulating to assume that they're making things too impenetrable for the listener.
There's always a fear of starting over when that shadow of the past still looms. Rather then ignoring the demise of Women, Viet Cong refine their atonal, unimpeded ethos and convert it into something challenging yet approachable. Rarely do records with such an off-kilter composition sound so vital and exciting, especially considering the emotional rupture that sets them into motion. Sure, new beginnings call for new mindsets. But instead of disrupting their normal patterns altogether, Viet Cong took the time in the past few years to figure out what works and what doesn't for them. There's a brittle vulnerability present in Viet Cong that triggers an innate sense of curiosity and optimism despite the downtrodden tone it adopts. It all makes for a fitting story about finding meaning from what has been lost even if the actual narrative is much simpler: reinvention by way of reverence.

18 January, 2015 - 05:48 — Juan Edgardo Rodriguez